Italian Wedding Soup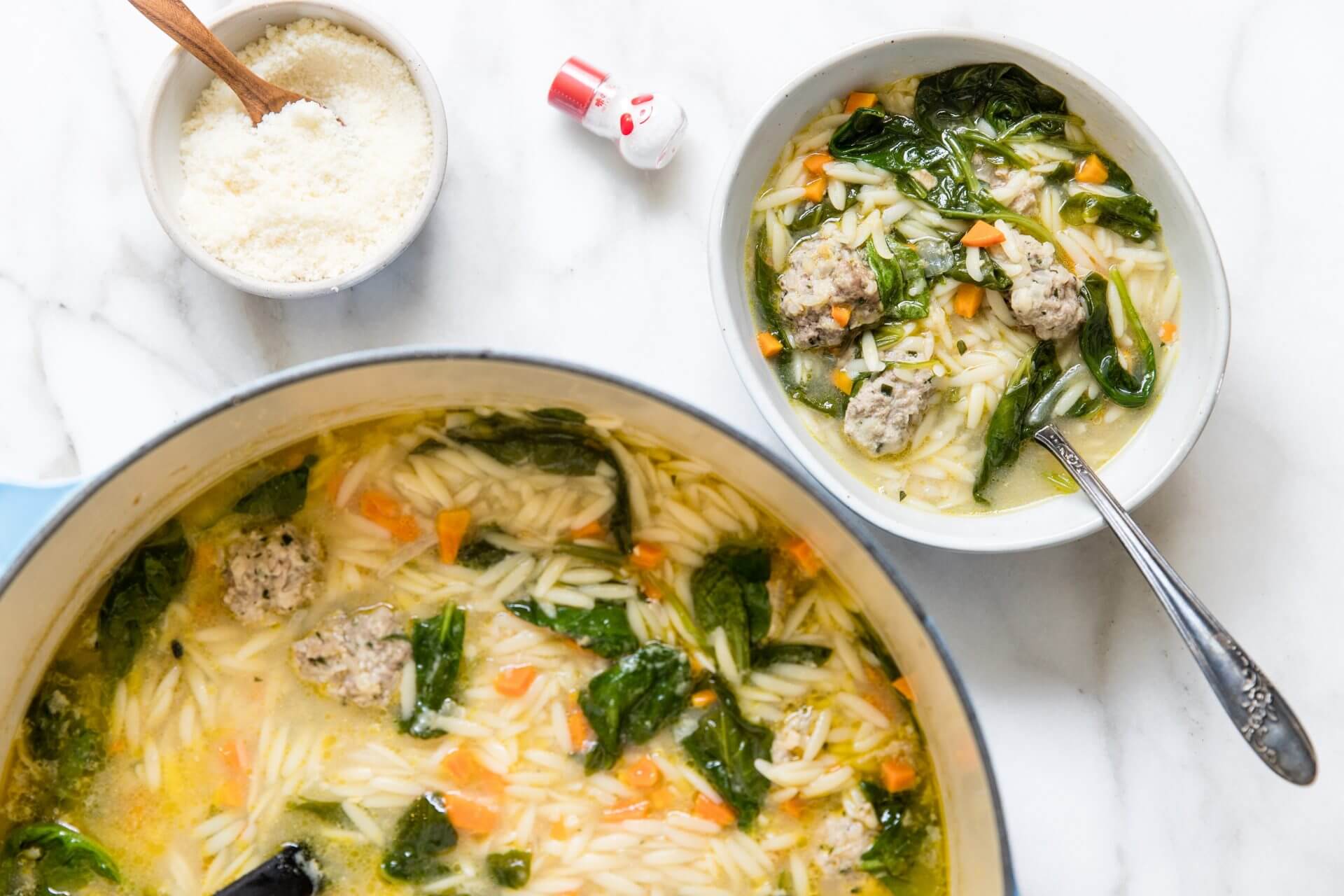 Comment from Tawnie Kroll, author of Kroll's Korner: We eat a lot of soup during soup season in our household! Soup usually contains a lot of sodium, which is why I chose to use MSG in this recipe. More on MSG a little later. Italian Wedding Soup consists of green vegetables and a meat (usually meatballs or sausage). It's quite popular in the United States but is it a staple in Italy.
Find it online: https://krollskorner.com/recipes/easy-italian-wedding-soup-recipe/
Ingredients
For the meatballs
8 ounces (230g) pork, ground
8 ounces (230g) beef, ground
2 slices fresh white bread, crust trimmed
2 cloves garlic, minced
1 medium white onion, grated or finely chopped
1/3 cup fresh parsley, minced
1/2 cup Pecorino Romano cheese
1/2 tsp. AJI-NO-MOTO® (MSG)
1 large egg
2 tbsps Worcestershire (or can use milk)
For the soup
12 cups chicken broth (US cup)
1/2 cup white wine (optional)
8 cups greens (baby spinach, endive, kale, escarole)
2 tbsps olive oil
3 large carrots, finely chopped
1 cup Orzo, dry
Directions
Prepare the meatballs by mixing everything but the meat in a large bowl first. Once those ingredients are combined, then add in the meat. Roll mixture into small meatballs and place on a baking sheet while you prepare the soup. Recipe will make ~35 small meatballs.

Cook onions and carrots over medium heat in a large stockpot in olive oil until onions are translucent. Then add in garlic and sage and stir for 1 minute. Add in broth and white wine. Bring to a boil and the reduce the heat to simmer or until carrots are soft.

Add in orzo and MSG and cook for ~6 minutes. Then add in meatballs. Once they float to the top they will most likely be done.

Stir in the greens (I used baby spinach) and finish with Parmesan cheese or Pecorino Romano and serve.
---