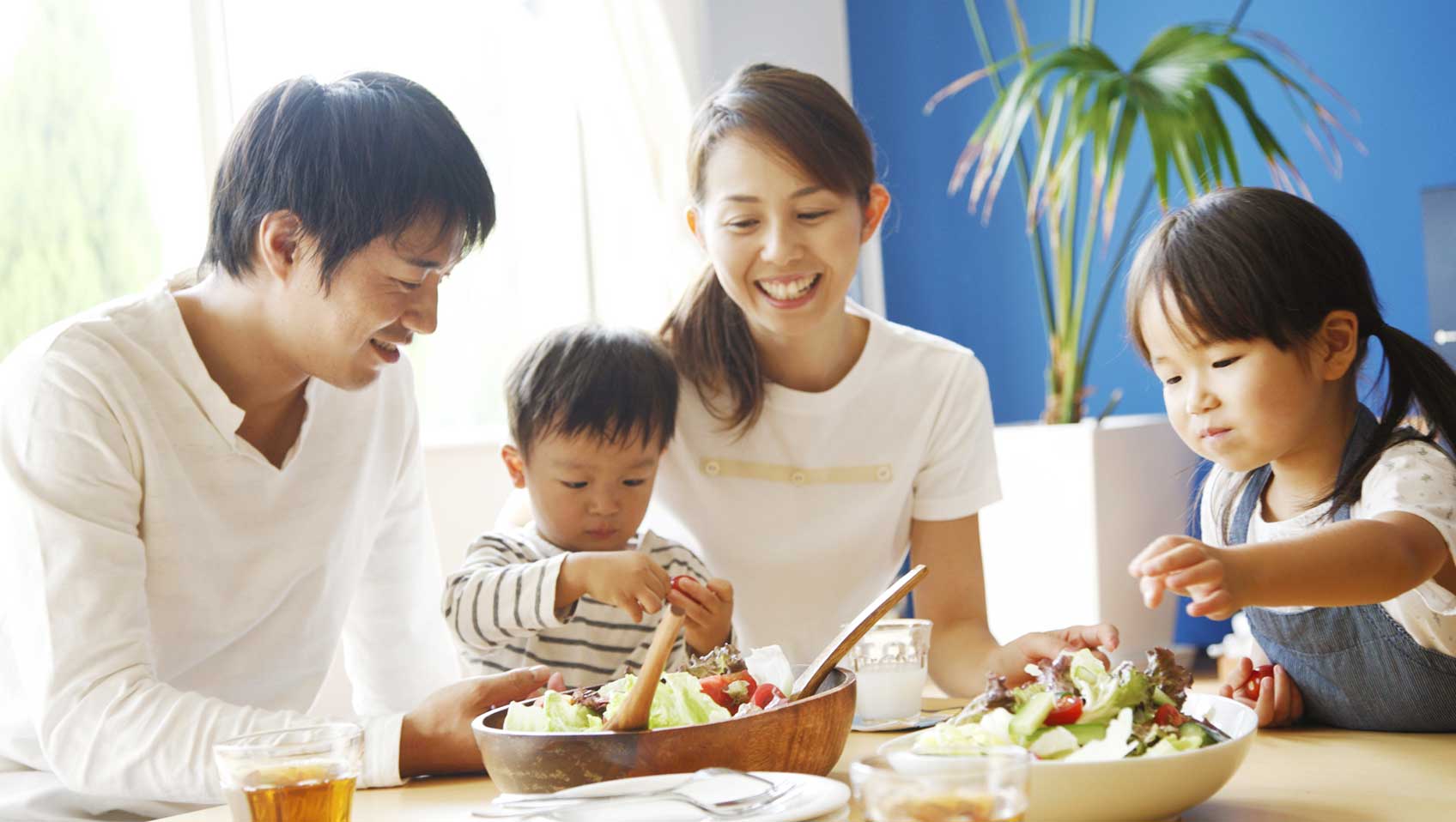 The Ajinomoto Group realizes value creation by leveraging the strengths of brand power, marketing, and R&D capabilities backed by over 100 years of history based on the diversifying needs of consumers.
While strengthening mainstay products, the Group will continue pursuing deliciousness. The Group will maintain its efforts to provide fine-tuned solutions that address various needs, including health-related needs such as salt and sugar reduction and the need for smart cooking.
Seasonings and Processed Foods

Origin, History, and Development
The business started with the launch of AJI-NO-MOTO® in 1909. As competition surrounding umami seasonings intensified from the 1950s onward, the Ajinomoto Group swiftly diversified its operations.
During the rapid expansion of Japan's instant food market in the 1960s, the Group launched Knorr® Cup Soup through an alliance with a U.S. company. Utilizing the marketing methods thus cultivated, we expanded into new categories such as mayonnaise.
In the 1970s, Japan's economic boom gave way to an era of stable growth. As a preference for convenience grew due to an increase in women working outside the home, among other factors, the Group developed its original HON-DASHI® and Chuka Aji flavor seasonings and Cook Do® premixed sauces.
In the 1980s, women made further advances in the workplace and sales grew rapidly. This approach of expanding the product rollout from AJI-NO-MOTO® to flavor seasonings and processed foods was also used later in the International Food Products business.
In the field of seasonings for processed food manufacturers, during the 1960s we launched savory seasonings that replicate the flavors of natural foodstuffs. These seasonings were developed in the process of amino acid research. In the 1990s, the Group began sales to major customers of enzyme preparations, which can be used to improve the texture of a wide range of processed products, and also started overseas production and sales.
Since then, we have continued to expand business in each field by constantly improving products and launching new products that address consumer needs.
Market Changes and Response in Recent Years
Consumer needs are diversifying in Japan as the population shrinks and lifestyles change. Changes are also apparent in consumer purchasing channels, not only at existing mass merchandisers, drug stores and convenience stores, but also in other areas such as e-commerce.
Amid these changes, the Ajinomoto Group will meet needs by rolling out high-value-added products, offering item-by-item cooking ideas on its recipe site, and developing products for each channel, among other approaches.
On the production side, the Group is conducting a reorganization to put in place a system that enables flexible production. We have also begun logistics reform to resolve various issues in food distribution (a shortage of truck drivers, rising distribution costs, the need for environmental preservation, etc.), and will pursue initiatives in cooperation with other food manufacturers.
Frozen Foods

Origin, History, and Development
Although Japan's home-use frozen food market started to grow rapidly in the late 1960s, the quality of commercial frozen foods at that time was low and did not earn consumer trust.
Under these circumstances, the Ajinomoto Group entered the business in 1972 by leveraging the technologies it had cultivated in the seasonings business to launch products in the high-price range that based their appeal on high quality and luxury. The Group captured consumer needs and immediately grew into a top brand.
Since then, we have steadily increased sales in tandem with changes in Japan's social and business environment, including the rise of the nuclear family, popularization of microwave ovens, growth of major retail chains and advances in frozen food distribution networks.
In the 1990s, the Group began production at overseas bases in Thailand and China to take advantage of the cost and product development benefits of using excellent raw materials sourced locally. We established a system for manufacturing products at overseas subsidiaries for export to Japan.
In 2000, the business was spun off as Ajinomoto Frozen Foods Co., Inc. to integrate management of development, production and sales.
Since then, dietary needs relating to safety and reliability have continued to increase and the Group is focusing on strengthening its unified quality assurance system from raw materials to products.
Market Changes and Response in Recent Years
As one of the few growth areas for processed foods in Japan, competition in the domestic frozen food market is intensifying.
The Ajinomoto Group continues to enhance product competitiveness in core categories and is focusing on identifying emerging needs to proactively develop products in new categories.
Coffee Products

Origin, History, and Development
As the Ajinomoto Group diversified its businesses from the 1960s onward, it came to regard the growing instant coffee market as a promising area. In 1973, the Group entered the coffee business in Japan by acquiring 50% of the shares of General Foods (Japan) and establishing Ajinomoto General Foods, Inc.
With the technology of General Foods Corporation and the sales expertise of Ajinomoto Co., Inc., the business has continued to grow, creating new markets by developing products in the new categories of regular, bottled and stick-type coffee, in addition to instant coffee.
In 2015, Ajinomoto Co. acquired the remaining 50% of shares, made the company a consolidated subsidiary, and in 2017, changed its name to Ajinomoto AGF, Inc. In 2016, Ajinomoto Co. also acquired the trademarks that had been licensed to the company, making it possible to develop an unrestricted brand strategy outside Japan. Moving forward, Ajinomoto AGF, Inc. will also provide technological support for local beverages and powdered drinks businesses and take on a central role in the Ajinomoto Group's beverages business.
Market Changes and Response in Recent Years
In Japan, coffee-drinking habits are changing from inside to outside the home. One reason for this change was the Ajinomoto Group's creation of a market for coffee counters at convenience stores, providing delicious coffee at a reasonable price.
We will continue to respond to growing outside-the-home demand and promote product personalization to respond to diversifying preferences.
---
---