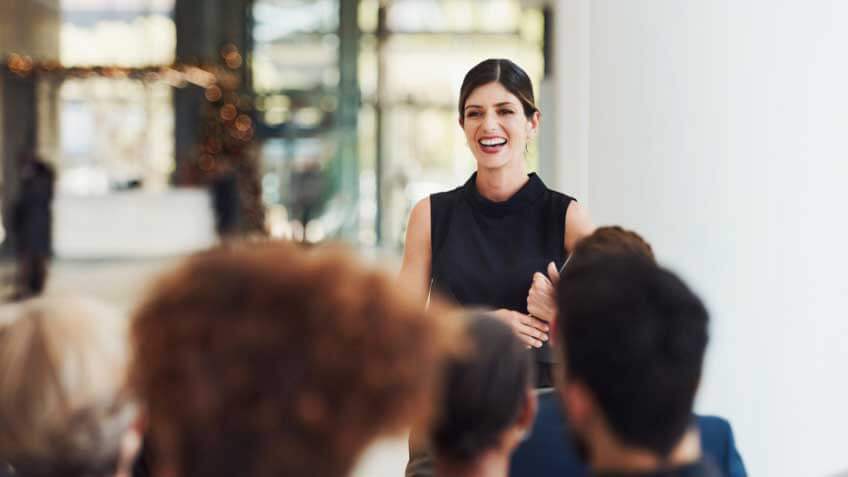 Training and Development
To realize our vision of becoming a more productive and problem-solving-oriented organization, Ajinomoto Co., Inc. will increase our investment in human resources by approximately 2.5 times compared to our 17-19 Mid-Term Plan. Employee productivity will serve as the key performance indicator for this investment and we have targeted engagement, D&I, and workstyles as the three pillars for enhancing productivity.
Through engagement we will boost employees' problem-solving capacity, beginning with nutritional, environmental, and digital literacy, while at the same time standardizing the PDCA cycle to make joint problem solving with clients the goal of organizations and individuals. Through greater diversity and inclusion, we will accelerate innovation. By updating our workstyle initiatives, we will improve responsiveness to external changes, using digitization to eliminate inefficiencies and freeing up time for work that leads to increased customer value.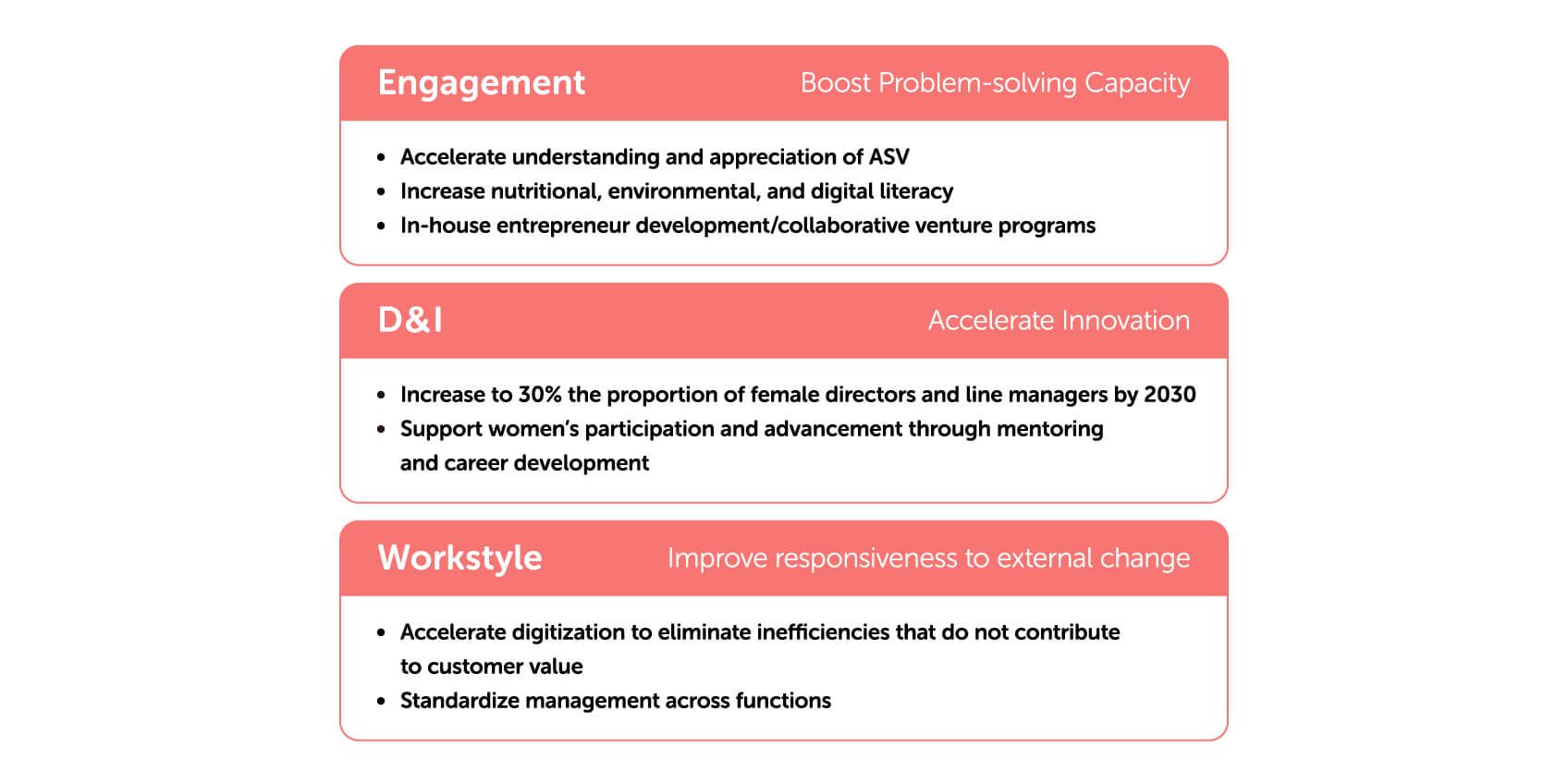 Engagement
Boost Problem-solving Capacity
 Accelerate understanding and appreciation of ASV

Increase nutritional, environmental, and digital literacy

In-house entrepreneur development/collaborative venture programs
D&I
Accelerate Innovation
Increase to 30% the proportion of female directors and line managers by 2030
Support women's participation and advancement through mentoring and career development
Workstyle
Improve responsiveness to external change
Accelerate digitization to eliminate inefficiencies that do not contribute to customer value

Standardize management across functions
Problem-Solving Capacity Building
In addition to developing an individual understanding and appreciation of ASV, it is essential employees build their problem-solving capacity to enable the company to realize innovations to solve food and health issues. This includes nutritional, environmental, and digital literacy training, workshops that promote understanding of ASV, and in-house entrepreneur development and collaborative venture programs. We will integrate these capacity building measures into the management cycle for enhancing ASV engagement, in order to advance PDCA.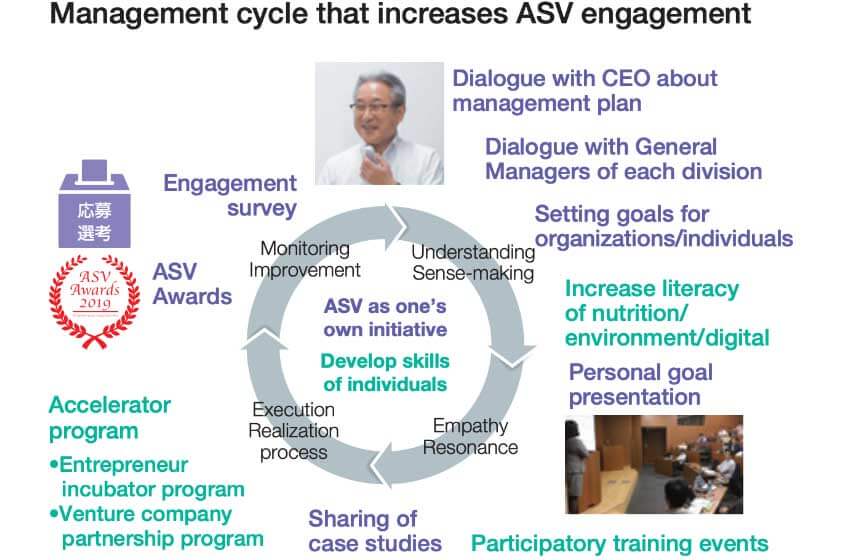 Global Talent Management System
The Ajinomoto Group is working to develop the next generation of world-class managers and highly skilled specialists. To do this, we are nurturing and promoting diverse talent in countries and regions worldwide and introducing a transparent global human resources management system for finding "the right person for the right job" by matching core posts with core talent. We have also established Group guidelines for international personnel transfers with the aim of building a deep and diverse pool of talent which will support the sustained growth of the Ajinomoto Group.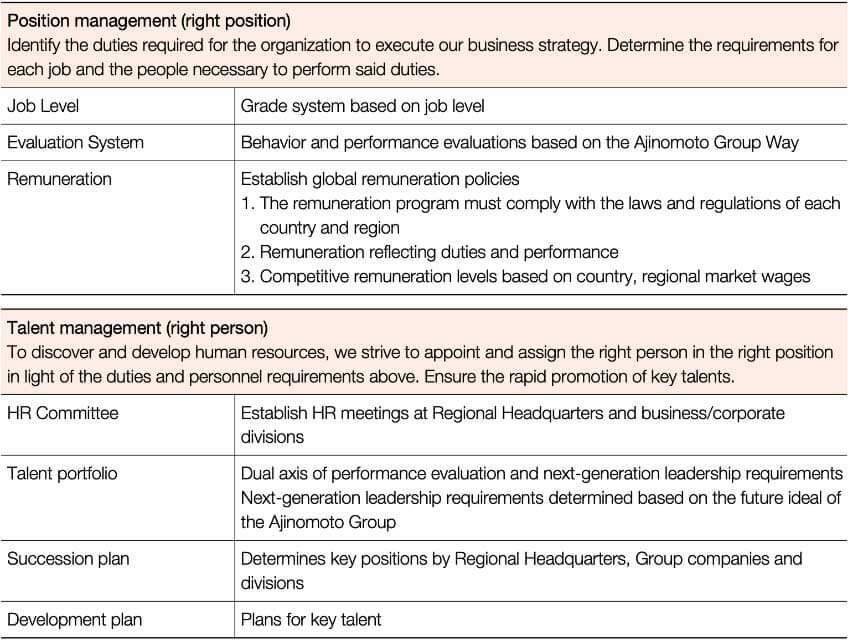 Raising the Level of Quality Assurance through Talent Development
We are also focused on talent development aimed at raising the level of quality assurance. Every year, we update our quality training plan and implement it according to the needs of each organization. In fiscal year 2019, following on from the previous year, we enhanced our training programs using e-learning and introduced VR technology into our quality control auditor training.
Global
North America ASQUA School––for quality assurance officers and factory quality assurance department managers in the North American region

Europe Regional QMS Meeting for Consumer Foods––for quality assurance personnel and quality control personnel in the European region

QMS Training Course (e-learning)––for Group company quality assurance personnel at the group leader and team leader level
Japan
Quality control training for Group company employees

Training for quality assurance managers scheduled to be posted overseas

Quality Management and Technology Discussion Group––for Group company executives and employees

Quality control study groups (e-learning)––for newly appointed unit managers/corporate managers and newly appointed quality assurance officers/managers

Food business ISO9001 transferee training (e-learning)

Quality control auditor training (using VR technology)
Programs
The Ajinomoto Group has developed and introduced a job grading (JG) system for key managerial positions to transition from "identifying the person and then finding an appropriate job" to "defining the responsibilities and authority level of a job and assigning the right person to it."
In order to strengthen talent management for the Group overall, the Ajinomoto Group Academy was launched in 2018 to systemically develop the next generation of corporate leaders, advanced specialists, as well as organization/function leaders, who are the future global growth drivers.
Future leaders programs offer next-level career advancement training based not on age or seniority but rather on the job grade at which participants are currently employed. Programs are designed to build global leadership abilities by focusing on themes such as: "Strengthen insight about the future," "Reflect and enhance self-leadership," "Ensure business literacy," and "Facilitate Ajinomoto Group vision."
We work with the organizations involved to provide training aimed at helping advanced specialists and function organizations/function leaders to enhance their expertise.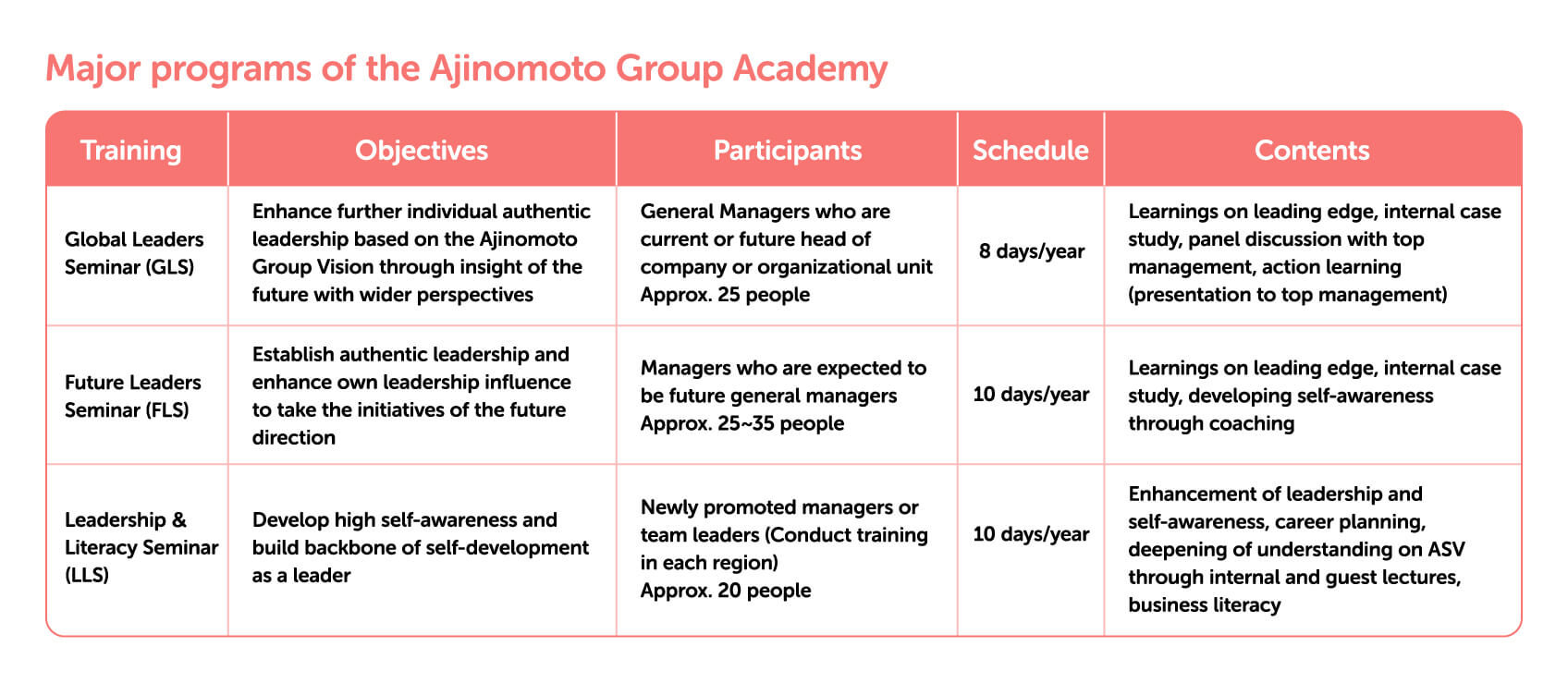 In addition, the Ajinomoto Women's Council was launched to support the active participation of women in the company. Its activities include seminars on supporting work-life balance.
---
---