Leveraging the power of Amino Science
Given that umami-producing glutamic acid is an amino acid, the Ajinomoto Group has expanded its business by developing leading-edge bioscience and fine chemical technologies through research centered on amino acids. By providing products and services that utilize the functions of amino acids with unique technological applications, the Group contributes to realize greater wellness for people all around the world.
Amino acids and health
Roughly 20% of the human body is composed of proteins. These proteins—more than 100,000
of them—are formed of long, uniquely assembled chains of just 20 kinds of amino acids. For this reason, amino acids serve critical, life-sustaining functions. They are the building blocks of muscle, skin, hair, and blood. They help protect and regulate the body as hormones, enzymes, and antibodies. And they also provide energy for movement.
Of the amino acids that compose proteins, nine cannot be synthesized within the body and must be obtained through food or other means. These "essential amino acids" all have the effect of stimulating muscle development, and leucine in particular promotes protein synthesis and limits protein breakdown by acting as a switch to signal muscle development. Evidence has shown that consuming amino acids high in leucine, even in small amounts, triggers muscle synthesis more than consuming protein itself.
Evidence-based nutritional and health value propositions
Based on world-class scientific expertise on amino acids, the Ajinomoto Group develops and markets products that support comfortable lifestyles for consumers, and also provides amino acid formulations and product design solutions to business customers. Adding various amino acid functions to food products broadens the health and nutritional value of amino acids by making it possible for consumers to conveniently obtain amino acids in their diet. The Group calls this B2B2C approach the downstream strategy (brand + inside strategy) and is implementing it in and outside Japan.
Based on this strategy, the Group offers to business customers Amino Acid Prime Mix, a new line of optimally formulated amino acid ingredients for food and beverage products.
Amino Acid Prime Mix ingredients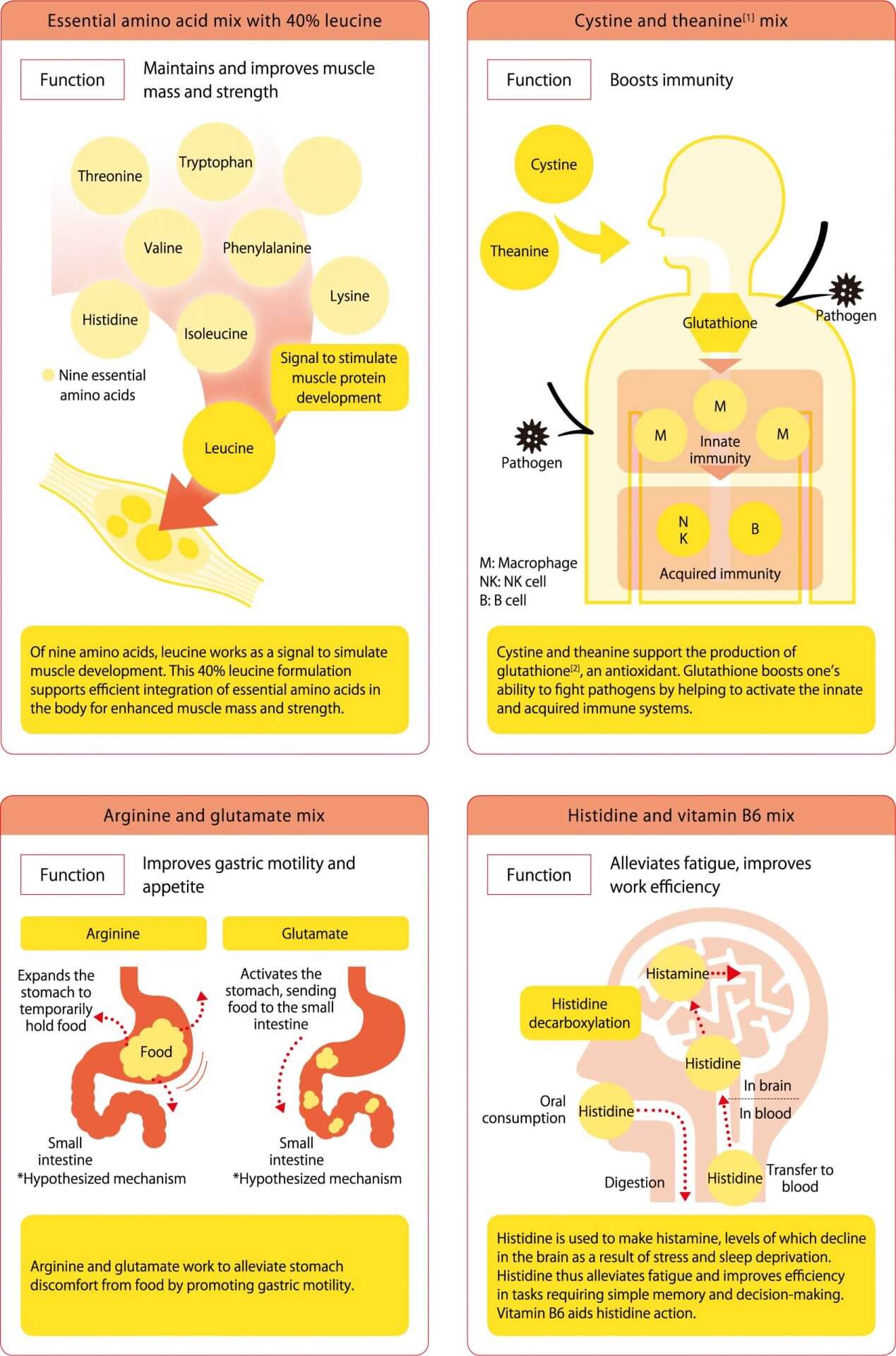 An amino acid found in tea leaves. A derivative of glutamic acid, theanine when consumed is broken down into glutamic acid and ethylamine in the body.

An important antioxidant for many living organisms, glutathione is formed by joining three amino acids, glutamic acid, cysteine, and glycine, in that order. The amino acid cystine alone increases glutathione levels, but adding the glutamic acid derivative theanine increases glutathione levels even more significantly.
---
TOPIC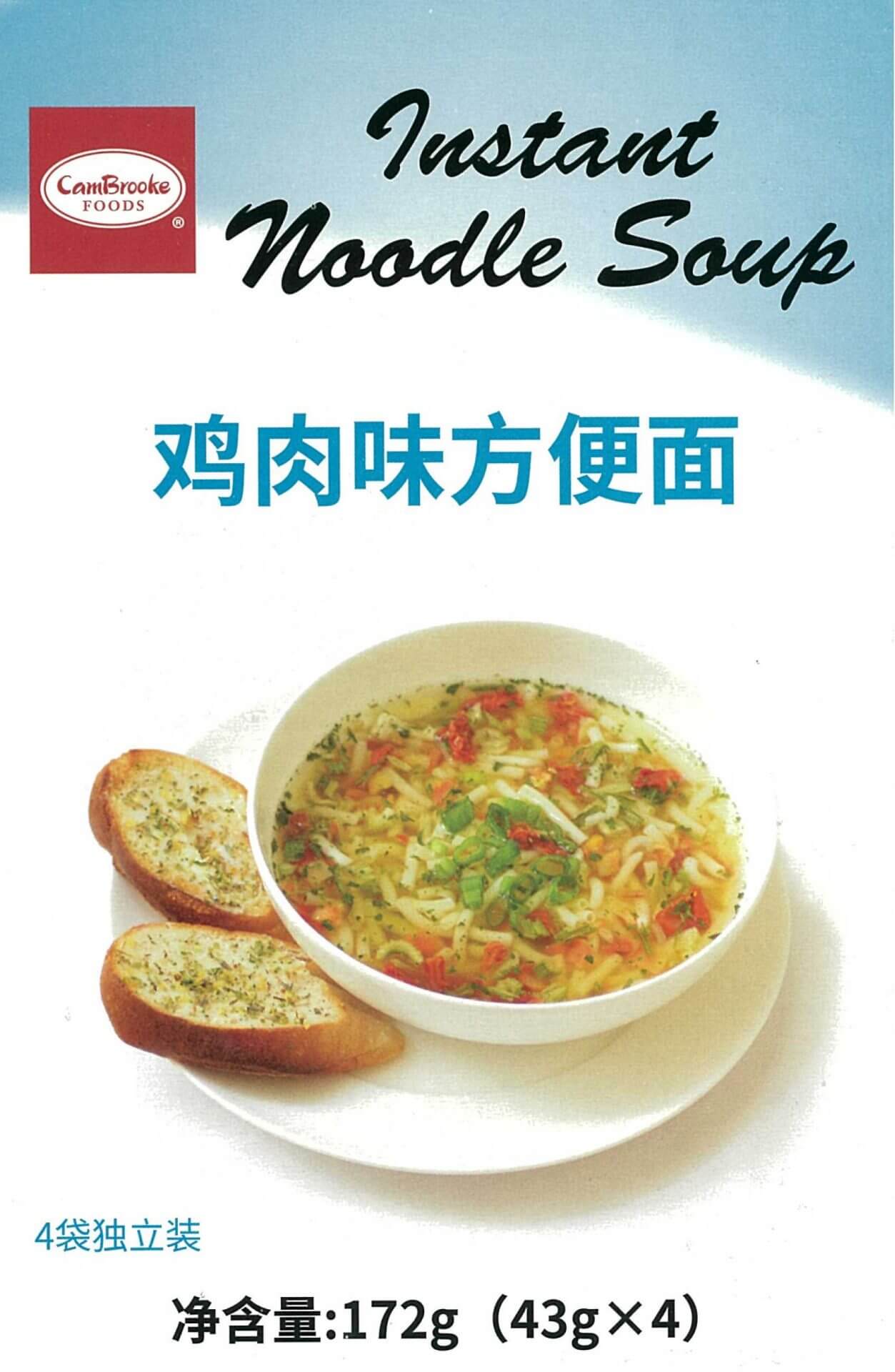 Improving QOL with medical food products leveraging amino acid functions
Driven by its founding desire to improve nutrition with delicious food, the Ajinomoto Group utilizes its expertise in amino acids and food to contribute to a better quality of life for people facing various health challenges.
Ajinomoto Cambrooke, Inc. (previously Cambrooke Therapeutics, Inc.), manufactures and markets medical food products for patients with amino acid metabolism disorders. Most medical foods offered to patients with metabolism disorders are lacking in palatability and variety. However, since 2017, when Ajinomoto Cambrooke Inc. became a Group subsidiary, the company has been offering a diverse lineup of more delicious and nutrient- dense products by applying the Group's knowledge of the nutritional and physiological functions of amino acids as well as its "deliciousness technologies." In 2018, the company expanded operations from North America and Europe into China.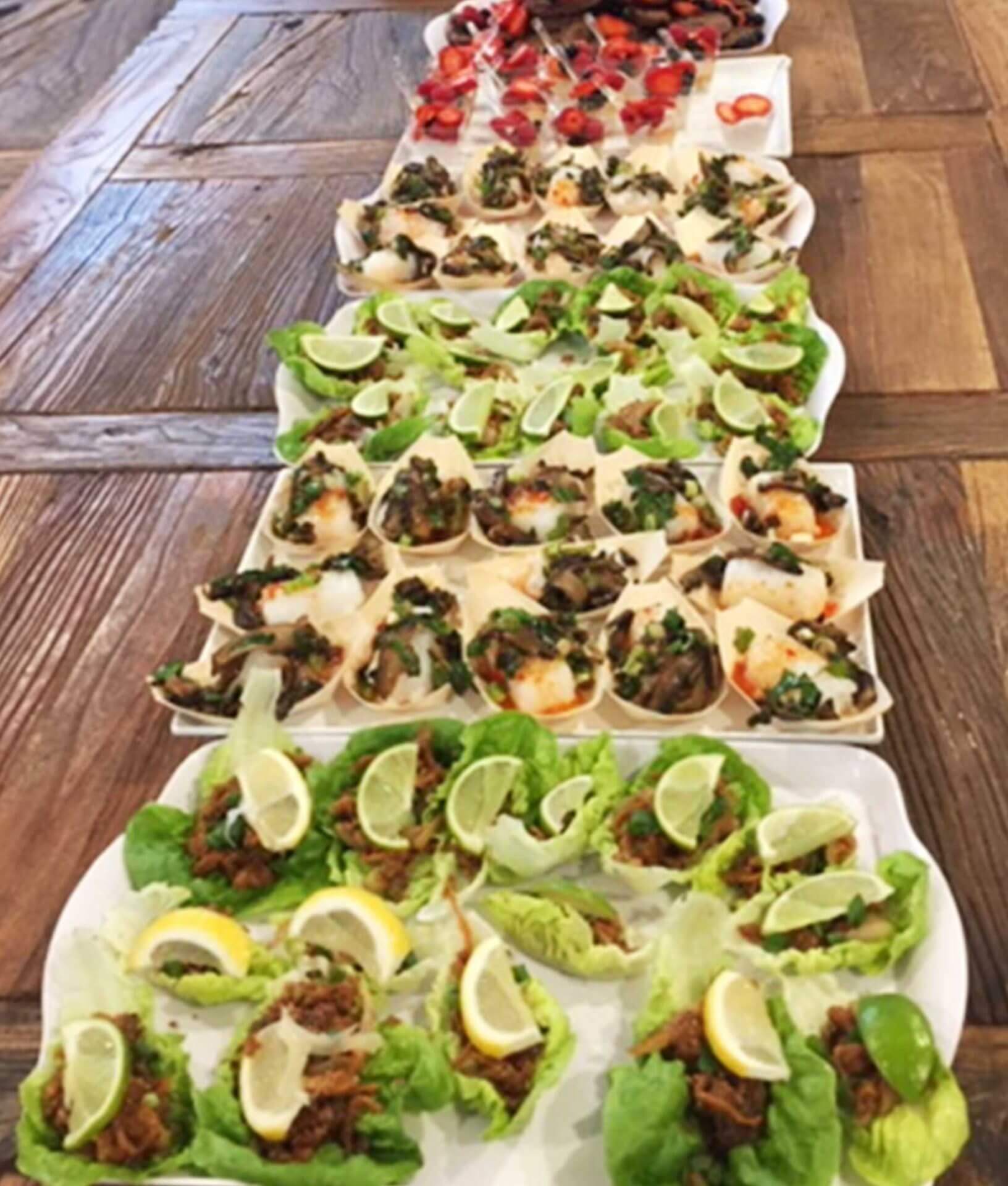 Since its founding in 2000, Ajinomoto Cambrooke Inc. has emphasized in-person communication between patients, their families and medical experts and has held seminars and other events for patients in the countries and regions where it operates. In fiscal 2018, the company held cooking classes for patients in four major cities in Australia, and around 120 people participated.
By leveraging Group strengths, the Group will continue to bring the joy of food to more patients and help improve QOL for them and their families.