CEO Message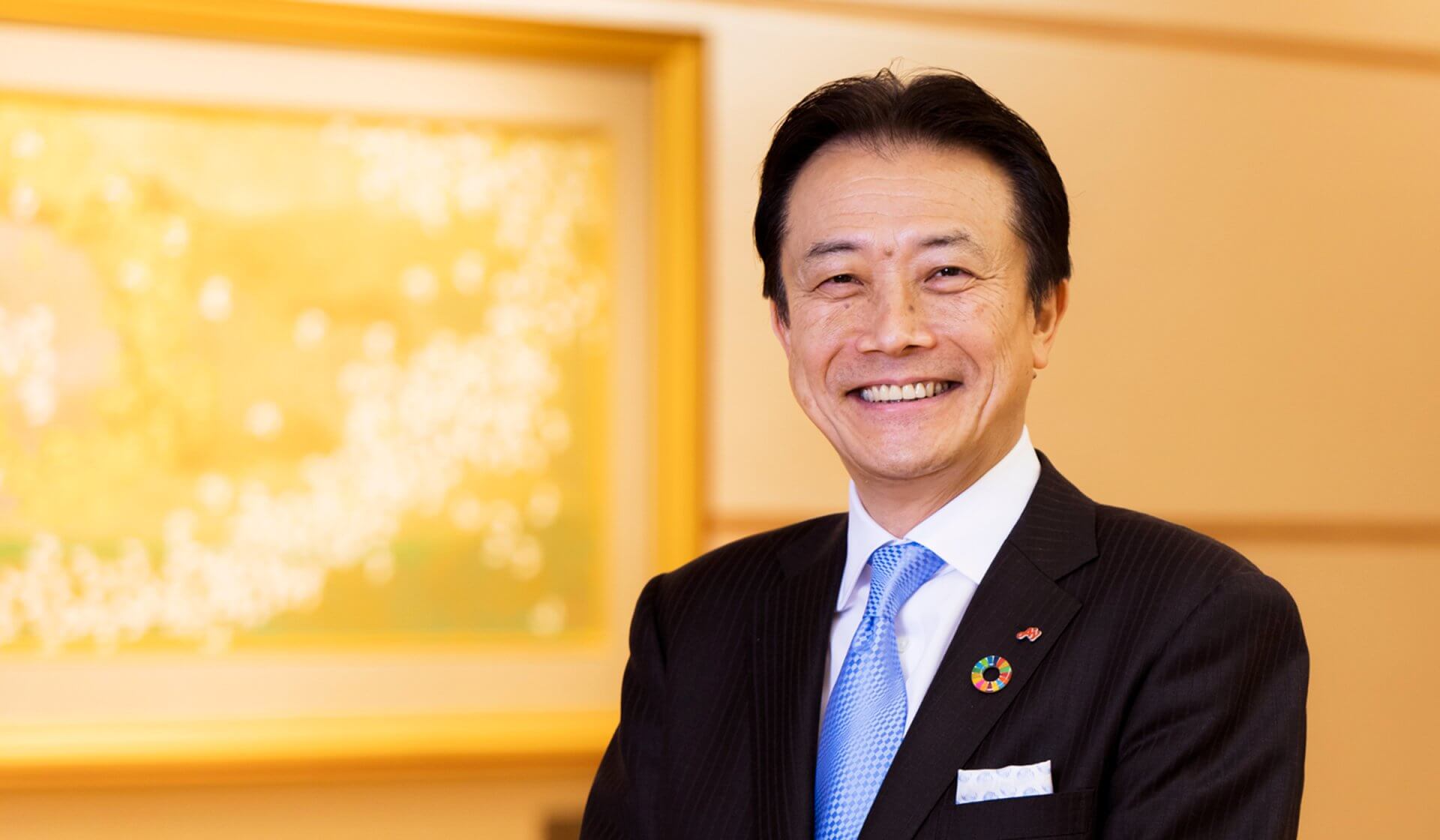 Over 100 years ago, the Ajinomoto Group was founded with the aspiration to help people "Eat Well, Live Well." Beginning with research into amino acids, the Ajinomoto Group's growth has been driven by "AminoScience"* as its foundation. Today, we are a group of more than 30,000 global employees serving over 700 million consumers around the globe.
The joy of cooking and sharing a delicious meal is at the heart of what the Ajinomoto Group does. As a child, I loved cooking for my family and watching how much joy and connection those home-cooked meals brought to us. So, you could say I was fated to work here. It is my immense pleasure to bring the "essence of happiness" to people around the world through the Ajinomoto Group's products.
The Ajinomoto Group's goal of improving nutrition in Japan, set at its founding, has evolved and broadened into Ajinomoto Group Creating Shared Value (ASV). Through this initiative, we pledge to contribute to society while creating economic value, which fuels what I call a "virtuous cycle of happiness." By bringing the "essence of happiness" to people around the world, we can in turn feel joy and be proud of the work we are doing.
In today's rapidly changing and unpredictable business environment, the purpose in which we are grounded is becoming all the more important. Building on our past purpose of "Unlocking the power of amino acids to resolve food and health issues," we have now evolved the Ajinomoto Group's purpose to "Contribute to the well-being of all human beings, our society, and our planet with 'AminoScience'".
This new purpose reflects the aspirations that have expressed from top management and Ajinomoto Group employees around the world, as well as our determination to meet the expectations of our various stakeholders.
Our purpose will help drive our work towards our 2030 outcomes to improve the healthy life expectancy of 1 billion people and reduce our environmental impact by 50 percent by 2030. Realizing both goals together will be an important milestone for our ASV management.
Along with our deep knowledge of amino acids developed over our 100-year history, the Ajinomoto Group's core strength comes from our employees, our technology, our brands, and our products. Placing sustainability at the core of our management, we will evolve toward purpose-driven management by medium-term ASV initiatives in which we start from setting a long-term vision and challenging ASV indicators under the leadership of top management. Furthermore, we will innovate our business and vigorously pursue ASV by enhancing the value of four intangible assets: human resources, technology, customers, and our organization.
As we navigate the challenging environment around us, it is vital that we continue to strive for "how we want to be" and pursue excellence through actions, supported by the diverse stakeholders who share the purpose and passion of each of us in the Ajinomoto Group. Only then can the Ajinomoto Group emerge stronger and more resilient than ever.
I pledge that under my leadership the Ajinomoto Group will endeavor to deliver the "essence of happiness" to the world. Thank you for your continued support and encouragement.
"Eat Well, Live Well. 'AJINOMOTO'"
* A collective term for the various materials, functions, technologies, and services derived from research and implementation processes with a rigorous focus on unlocking the power of amino acids. It also refers to the Ajinomoto Group's unique scientific approach to connect these to resolving social issues and contributing to well-being.

Taro Fujie
President & Chief Executive Officer
Ajinomoto Co., Inc.
March 2023
About the Ajinomoto Group