Ajinomoto Group Malaysian affiliate supports Stay Home through online cooking contest and donates food cooked with its products
The lifestyle of Malaysians has gone through changes since the Movement Control Order (MCO) was introduced on March 18, 2020, to contain the spread of Covid-19 infection. It is a challenging time as people are required to stay home, and away from family and friends.
As a company committed to helping consumers "Eat Well, Live Well", Ajinomoto (Malaysia) Berhad (AMB) cares about the health and well-being of Malaysians especially during this challenging period. As such, AMB has been actively spreading love and positive energy through the sharing of inspiring and lively information on healthy living, nutritious and delicious cooking on various online platforms.
The online "Stay Grateful. Stay Close Cooking Contest", held from April 16 till May 15, 2020, encouraged people to eat well, live well and send positive quotes to their loved ones. The contest invited participants to post photos featuring dishes prepared with AMB's products on Facebook and to share a positive quote or message to their family and friends. It promoted positivity and connectivity among the community. The contest was one of the AMB initiatives to encourage people to stay grateful with delicious cooking.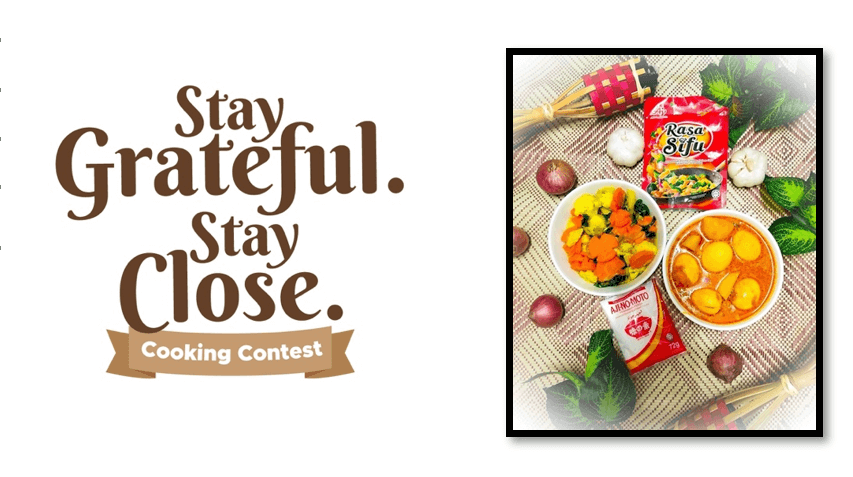 On a different note, Aji-Shio® had earlier teamed up with RASA Magazine to make the 'Projek Bubur Lambuk' a success by providing 600 packs of Bubur Lambuk to frontliners at Shah Alam Hospital and Section 9 Police Station in Shah Alam on May 16, 2020. The sharing was aimed at bringing cheers in the holy month of Ramadan as AMB recognises the contributions of frontliners who have been sacrificing their time and energy in keeping every Malaysian safe during this pandemic.