Nutrition without Compromise
Unlocking the power of amino acids to support the healthy lives of people all around the world.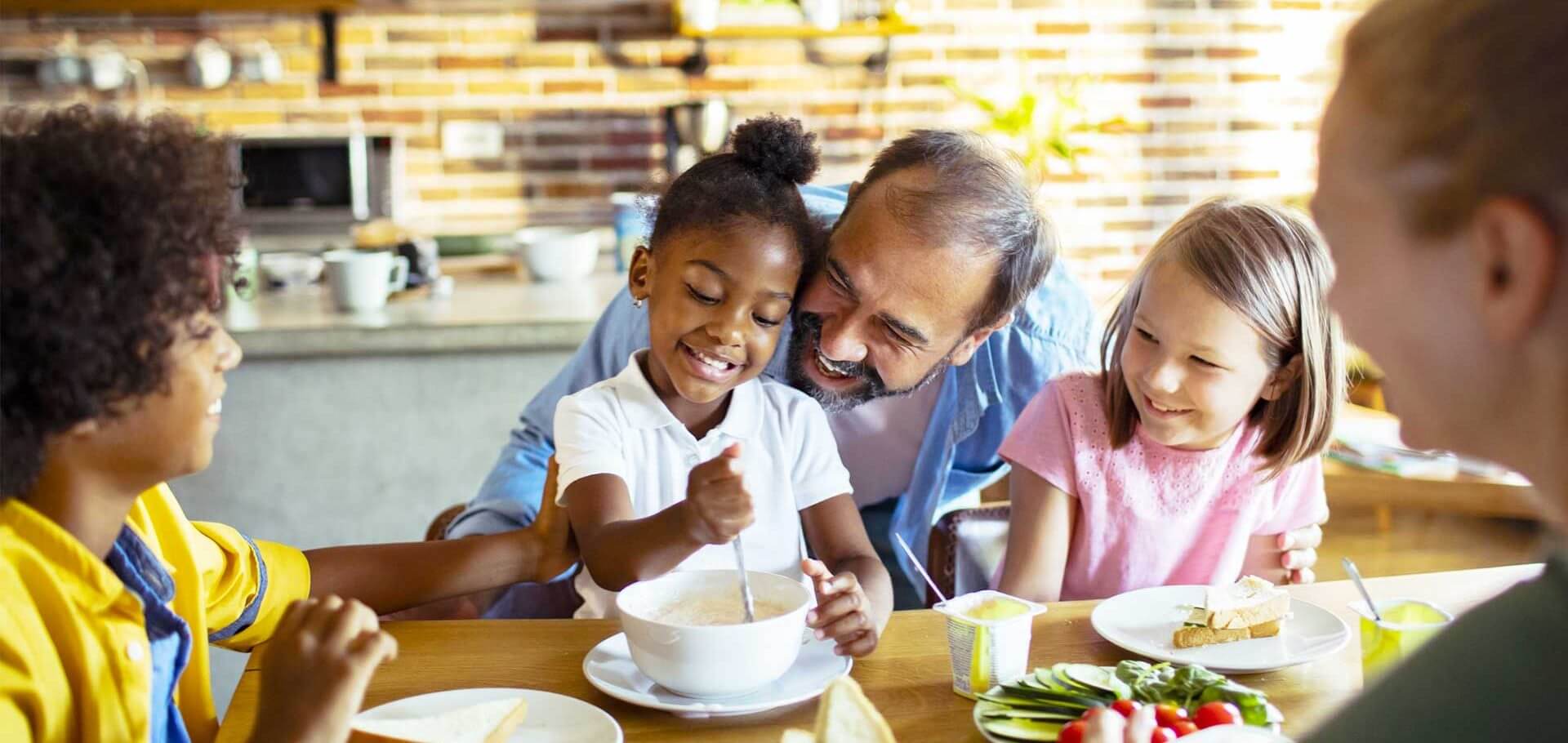 Our Approach to Nutrition
The Ajinomoto Group is driven by the philosophy that when nutritious foods taste good, are easily accessible, and respect local customs and flavors, global health can be optimized. We aim to help people live healthier lives through our approach to nutrition -Nutrition Without Compromise.
Why We Care about Nutrition
Health issues linked to diet and lifestyle are on the rise worldwide, including lifestyle-related diseases, under-nutrition, and over-nutrition. In particular, the double burden of poor nutrition, which stems from a combination of under-nutrition and over-nutrition, is of growing global concern.
Since its founding, the Ajinomoto Group has been committed to promoting nutritious and delicious meals using umami. We are working to address nutrition-related challenges with the aim of realizing our vision of solving global food and health issues.
Our Approach to Nutrition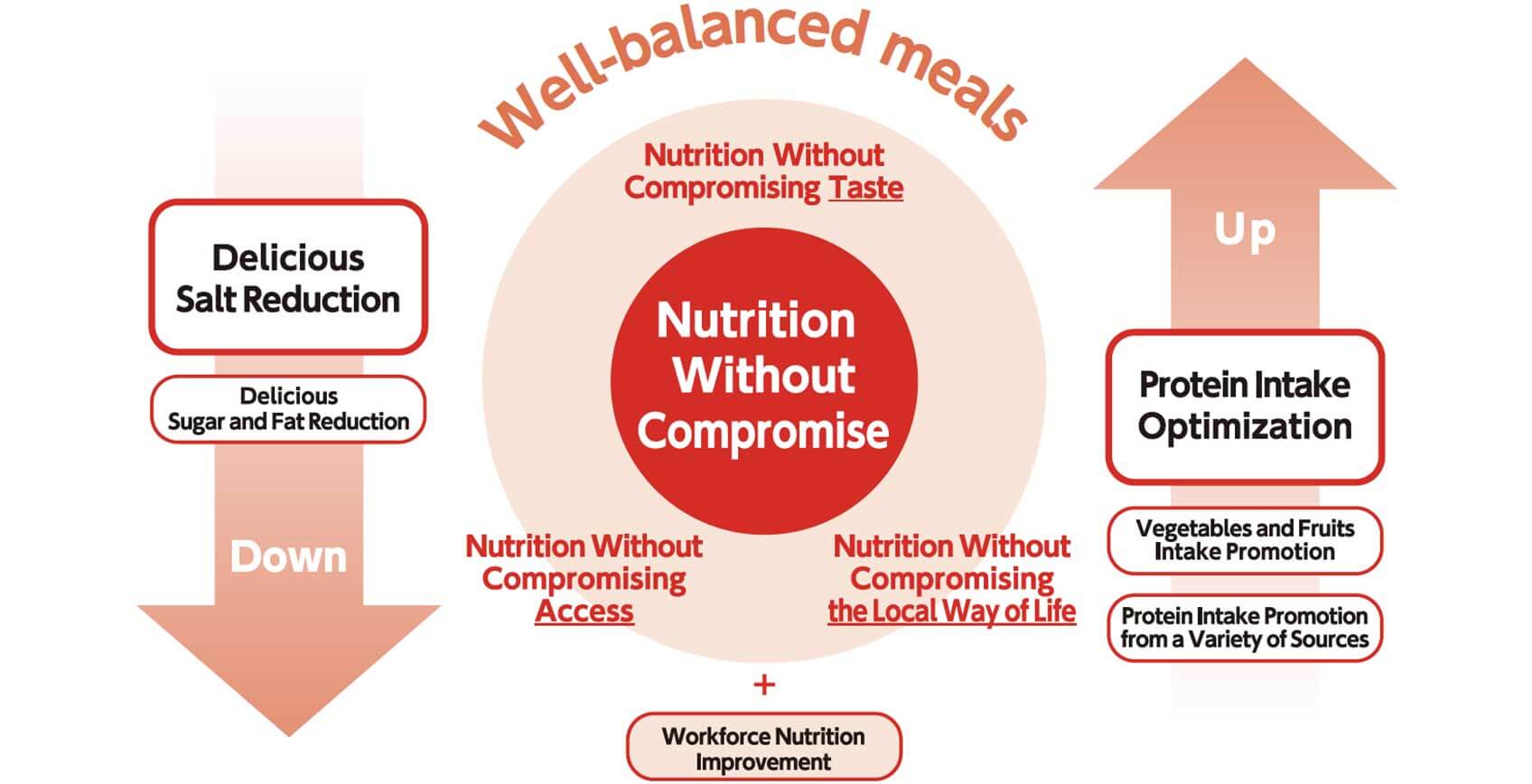 To address the double burden of under-nutrition and over-nutrition, the Ajinomoto Group supports people's efforts to maintain a delicious, well-balanced diet using umami.
We promote nutritionally balanced diets to solve issues such as insufficient intake of protein and vegetables, as well as excessive intake of sugar, fat, and salt. Utilizing our global network of companies that provides products to consumers in more than 130 countries around the world, the Ajinomoto Group promotes initiatives that advance our principle of Nutrition Without Compromise—nutrition without compromising taste, access to food, or local ways of life.
The Three Pillars of Nutrition Without Compromise
Leveraging the power of amino acids, the Ajinomoto Group is contributing to solving issues around global nutrition. To this end, our commitment to Nutrition Without Compromise consists of these three pillars: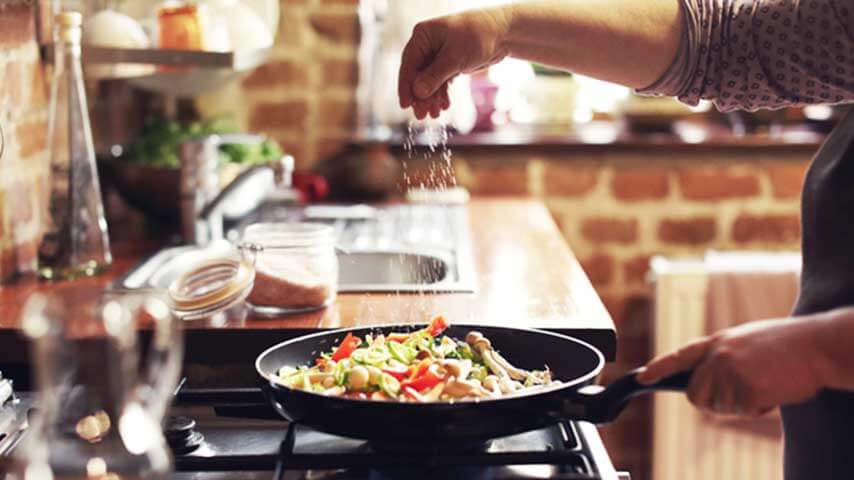 1. Nutrition Without Compromising Taste
The Ajinomoto Group continues to invest in products that promote improved nutritional value, such as sodium reduction, and we do so without compromising taste, thanks to our unique approach to amino acids. We make products like monosodium glutamate (MSG) that help consumers prepare healthier meals and reduce the sodium content of their products.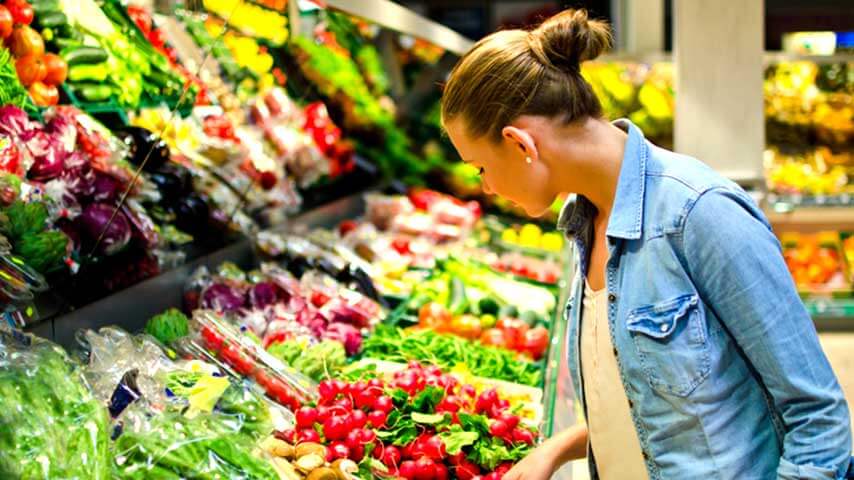 2. Nutrition Without Compromising Access
We recognize that while some populations have access to nutrition in many forms, the food choices of other populations are limited by what is accessible based on availability, affordability, and convenience. We believe we are in a distinct position to use our approach to amino acid innovations and products, as well as our efforts on distribution, price, and convenience, to make nutritious meals more accessible for all.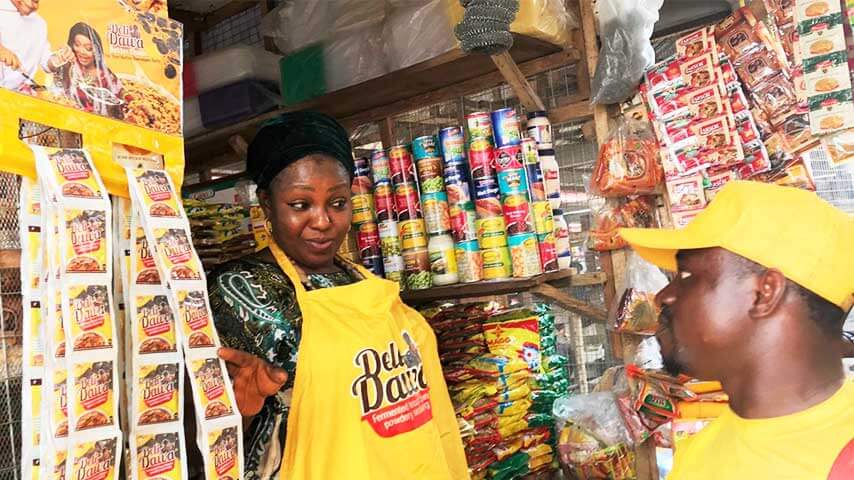 3. Nutrition Without Compromising the Local Way of Life
The Ajinomoto Group is a global company, but it operates in local markets where there are established approaches to culture, traditions and enjoying food. Our global operating model adapts to and respects local customs, food preferences, resources, ingredients, and stakeholders. As communities and economies grow and shift, our emphasis on personalization becomes even more relevant.
Our Six Key Issues
To promote nutritionally balanced meals, within the three pillars we have identified six key issues, which we are addressing through our two key initiatives and four key objectives.
Our Two Key Initiatives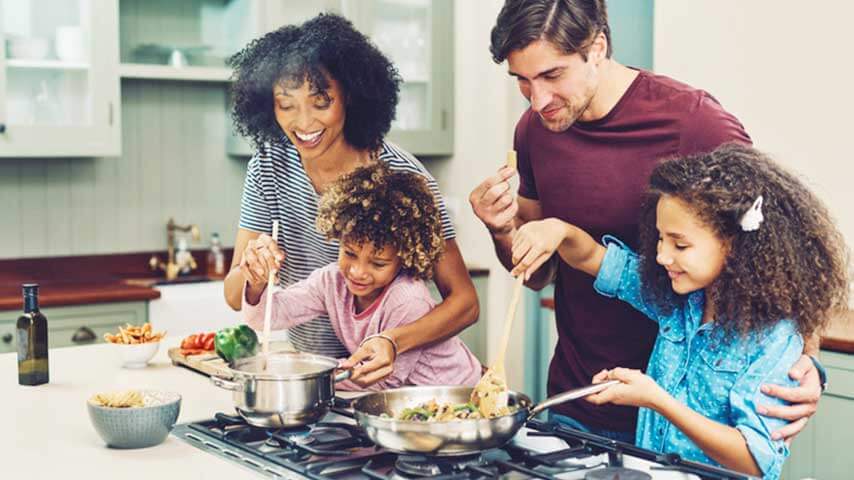 Delicious Salt Reduction
Excessive intake of salt is a global health issue we are uniquely positioned to help solve. The Ajinomoto Group is working to promote salt reduction using our amino acid technologies that provide deliciousness through umami.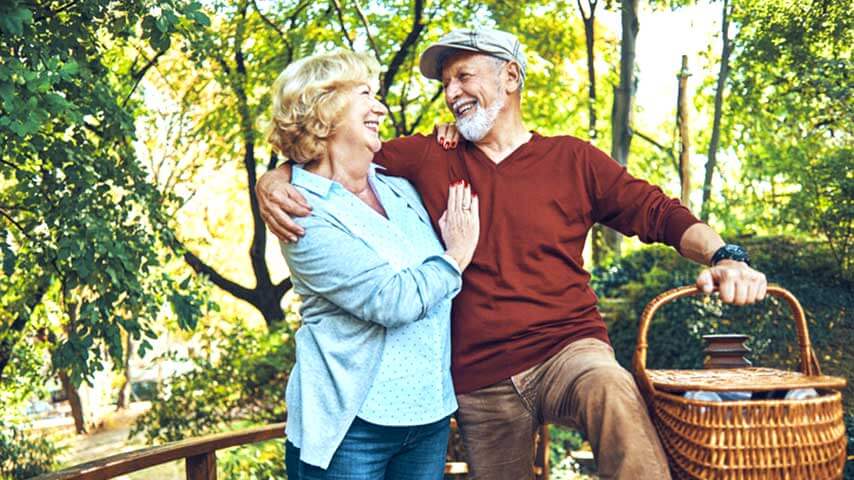 Protein Intake Optimization
The issues of insufficient dietary protein and lack of access to high-quality protein is widespread among both underprivileged and elderly populations. The Ajinomoto Group is dedicated to improving protein intake through our unique approach to providing amino acids, which can complement lower-quality protein sources, combine to form dietary protein, and function as seasonings to enhance the flavor of protein-containing meals.
Our Four Key Objectives
Delicious sugar and fat reduction
Promoting the intake of fruits and vegetables
Promoting protein intake from a variety of sources
Workforce nutrition improvement
Our Commitment to Nutrition and Research

Tokyo N4G Summit brings world together to tackle global nutrition challenges
Every four years, the world's best athletes gather in a spirit of friendship, solidarity, and fair play to compete on the track, field, pitch, court, or in the pool. The Summer Olympics and Paralympics are a symbol of health, strength, and the fulfillment of human potential. Imagine what could be achieved if the same spirit of goodwill were harnessed to tackle global health and nutrition challenges?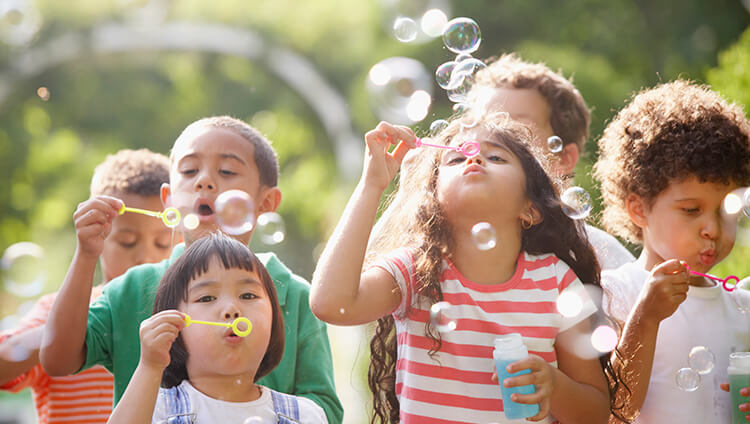 Our Commitment to Nutrition and Research
The Ajinomoto Group was built on a history and foundation of "Eat Well, Live Well," reflecting our founder's hope to promote well-balanced meals that are full of flavor and nutrition.
Nutrition Policy
Nutrition Organization Affiliations and Partners
The Ajinomoto Group is pleased to be affiliated with leading organizations that are advancing nutritional science and improving human health. In partnership, we are contributing to global public health goals.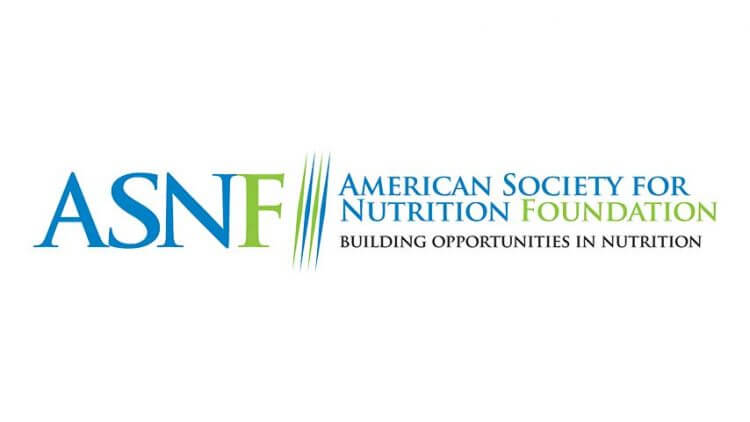 American Society for Nutrition Foundation
As part of our commitment to advancing the field of nutritional science, the Ajinomoto Group is pleased to support two awards with the American Society for Nutrition Foundation (ASNF), including the Vernon Young International Award for Amino Acid Research and the Ajinomoto Young Investigator Pilot Grant.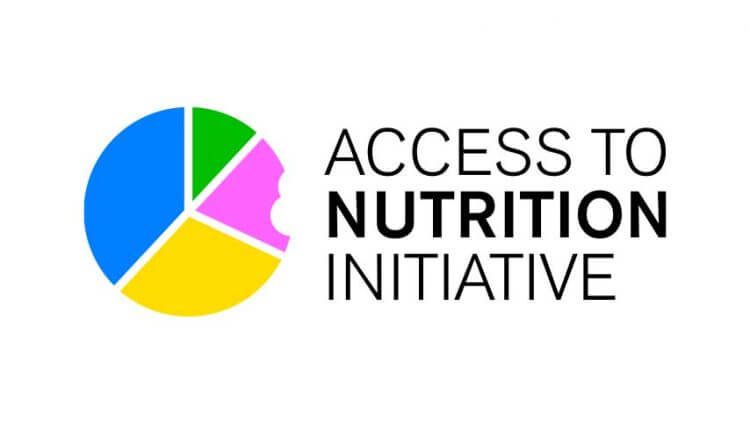 Access to Nutrition Initiative
The Ajinomoto Group was ranked 14th in the Global Access to Nutrition Index 2021 published by the Access to Nutrition Initiative (ATNI).
Consumer Goods Forum
The Ajinomoto Group is a Manufacturer Board Member of The Consumer Goods Forum, an organization that brings together global retailers and consumer goods manufacturers to collaborate, secure consumer trust and drive positive change. The Ajinomoto Group was also a joint representative for the Collaboration for Healthier Lives Japan, a coalition whose mission is to promote healthier lifestyle habits to extend life expectancy.
Message Video: Nutrition Without Compromise
---
Nutrition Related Articles