Our Intention
Excessive intake of salt is a global health issue that the Ajinomoto Group is uniquely positioned to help solve through amino acid technologies that lower sodium content and provide savory deliciousness through umami.
Why It is Important
Salt intake in many developing countries is more than twice the World Health Organization (WHO) recommended standard of 5 grams per day which equates to about 2 grams of sodium per day. The WHO states that 22% of the world's population is hypertensive, a condition related to high sodium intake (particularly from salt) and a major cause of premature death worldwide.[1][2]
Our efforts to improve nutrition through the reduction of salt while maintaining or enhancing flavor supports the United Nation's Sustainable Development Goal #2 for Zero Hunger and #3 for Good Health and Well-being. In addition, we are supporting the WHO's Global Noncommunicable Disease (NCD) Targets to reduce salt/sodium intake by 30% and the prevalence of raised blood pressure by 25%. By making it easier for consumers to eat balanced, tasty meals, we aim to decrease undernutrition and ensure healthier lives.
What the Ajinomoto Group is Doing
INNOVATIONS
Umami for More Flavor, and Less Sodium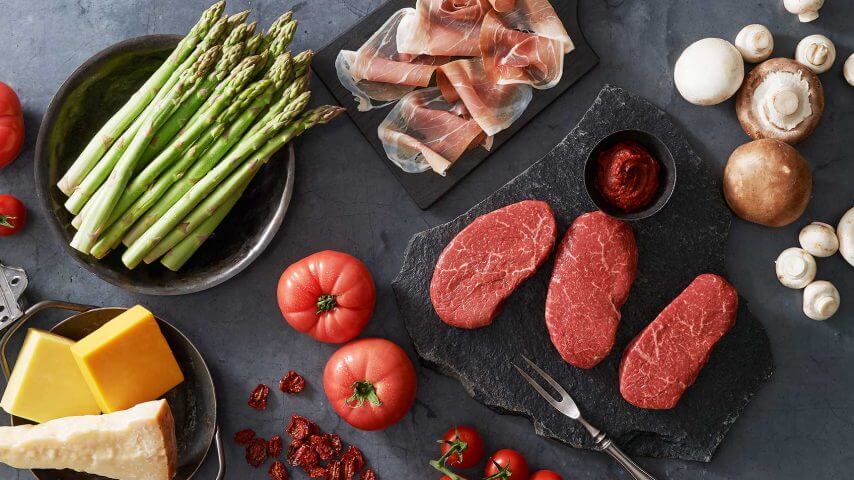 Umami is the taste of the amino acid glutamate – one of the most prevalent amino acids in nature and naturally present in foods like tomatoes, Parmesan cheese, and mushrooms. More than 100 years ago, the Ajinomoto Group was founded on the discovery that glutamate is responsible for umami taste. This discovery led to the launch of the world's first umami seasoning, monosodium glutamate (MSG). To learn more about umami, click here.
Monosodium Glutamate (MSG)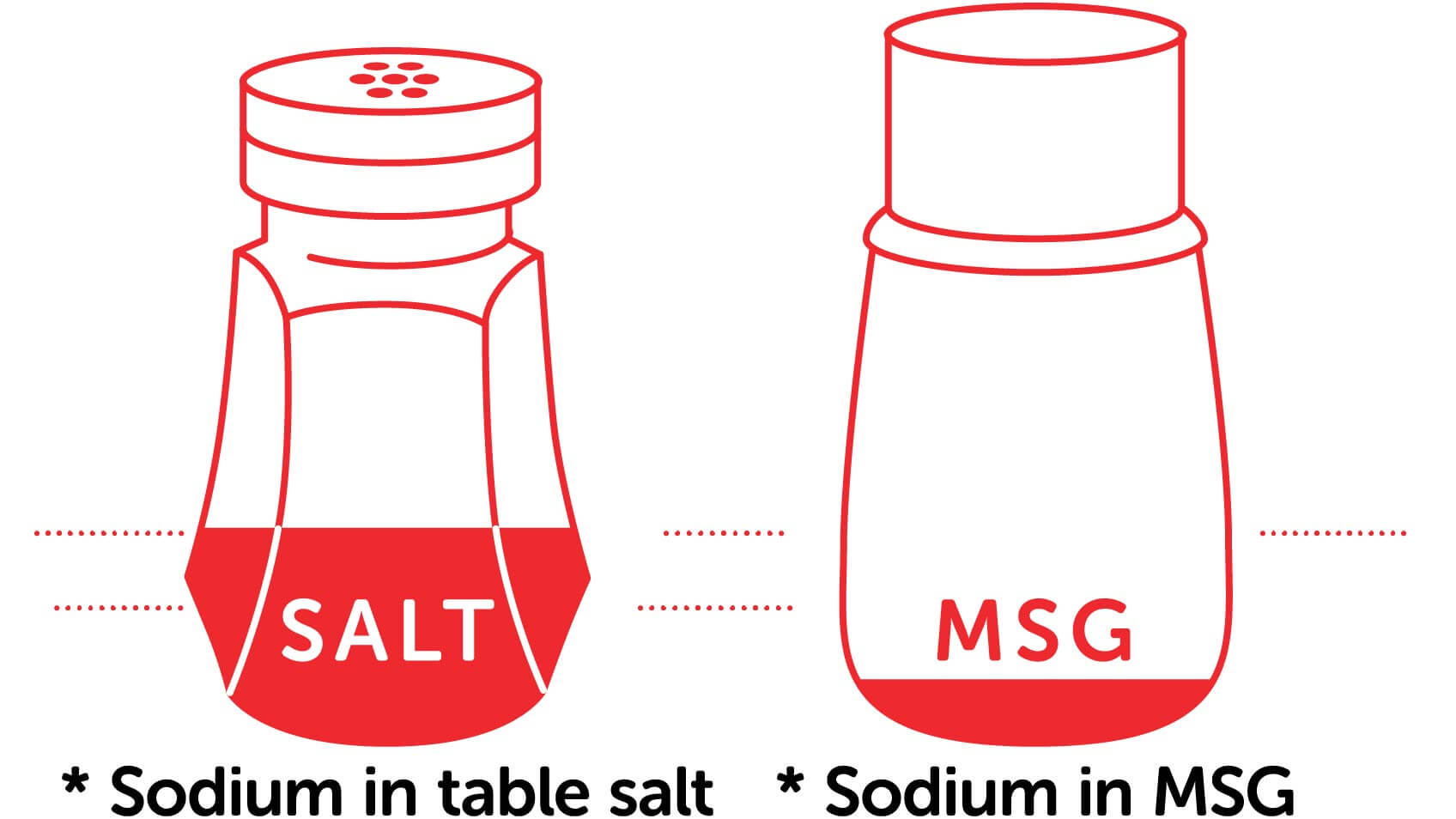 MSG has 2/3 less sodium than table salt and when used as a partial replacement for salt, it can reduce sodium by up to 61% in at-home cooking and 50% in packaged foods and snacks without compromising taste.[3] What's more, research shows that using glutamates, like MSG, as a partial replacement for salt in certain savory food categories could reduce sodium intake by up to 7-8% in the U.S. population, which is a significant impact.[4] More research is being done to determine the impact glutamates can have in reducing sodium intake in other countries. When used in better-for-you foods, like whole grains and vegetables, MSG can provide savory deliciousness without over-reliance on salt helping to promote the enjoyment of nutritious foods that people should be eating more of. Extensive scientific research has been conducted regarding MSG safety and its role in the diet. As such, numerous public health agencies and organizations around the world have validated the safety of MSG and its use in the food supply.[5][6][7][8]
The Smart Salt Project
While Japanese cuisine is renowned worldwide as healthy and nutritious, it is also high in salt. According to the National Health and Nutrition Survey (2019) from Japan's Ministry of Health, Labour and Welfare, over 80% of Japanese exceed the daily recommended salt intake, based on estimates of salt intake for adults (defined as those aged 20 and above). Moreover, the same ministry's Dietary Dietary Intake Standards (2020) lowered the daily recommended salt intake for adults by 0.5g, to no more than 7.5g for men and 6.5g for women.
According to a survey[9] conducted in Japan by Ajinomoto Co., Inc., only 5.2% of respondents said they were adhering to these targets. In response, the company launched the Smart Salt Project in July 2020 to address consumer concerns that salt reduction is difficult or makes foods taste bland. It is promoting what it calls "delicious salt reduction" with umami and dashi. Through videos on owned media and recipes and other information posted on the Smart Salt website, the project aims to help Japanese home cooks realize delicious salt reduction using umami and flavor seasonings. Collaborative initiatives for salt reduction with other companies are also planned.
Similar activities are underway overseas. In addition to launching 22 reduced-salt products across 8 brands in 5 countries starting in April 2020, Ajinomoto Group companies are promoting reduced-salt products through owned media using recipes, cooking classes, and the like.
Product Examples
We are actively developing products, such as soups, frozen foods, and seasonings, that utilize our salt-reduction technologies. Through our nutrient profiling system, we are collecting and analyzing data on the nutrient content of our current and future products to identify nutrition gaps and improvements such as in lower sodium content. We are using this tool to evaluate approximately 500 products across seven countries including Japan, Thailand, Vietnam, Indonesia, Philippines, Malaysia and Brazil. To learn more about the Ajinomoto Group Nutrient Profiling System for Products, click here.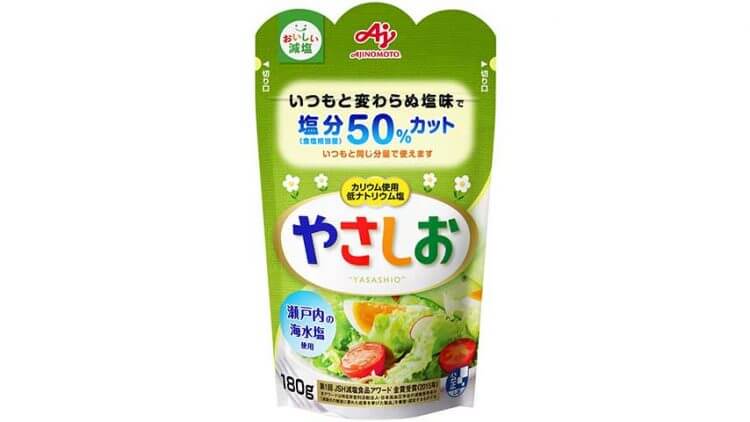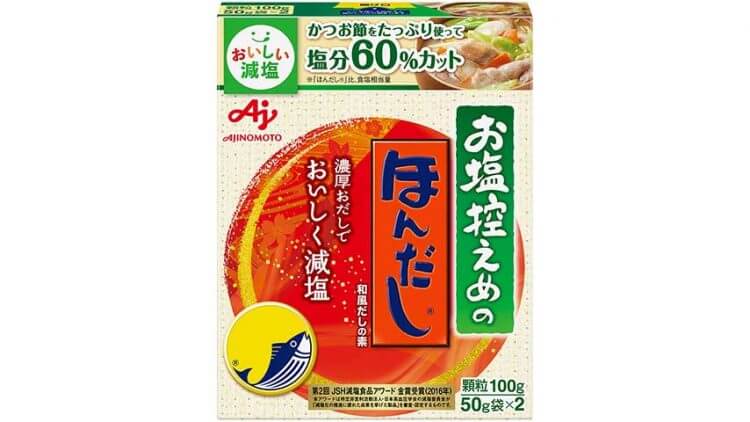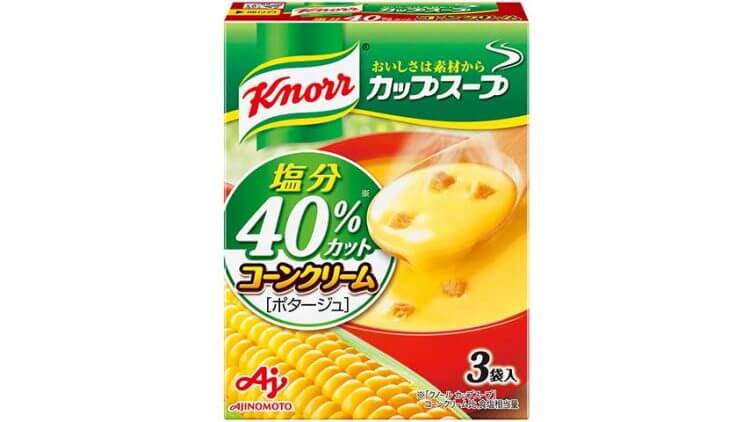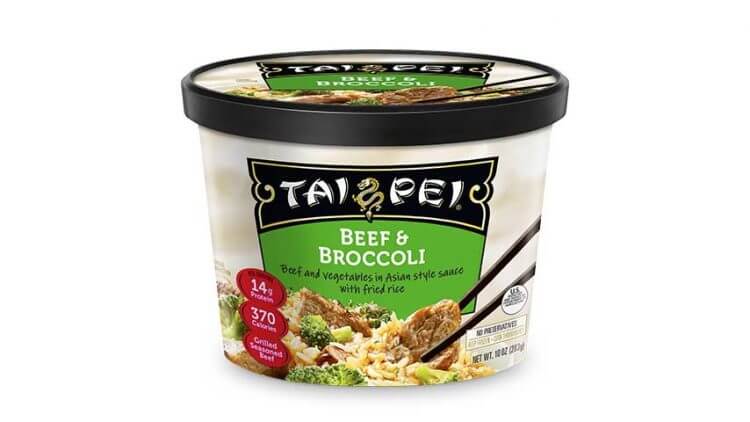 SEE IT IN ACTION
Iwate Prefecture Salt Reduction Project
Since 2014, Ajinomoto has promoted salt reduction through partnerships with local governments. For example, the Iwate prefecture had the highest salt intake in Japan but together, with the local government, we were able to reduce people's salt intake by 10-20% over a four-year period. The prefecture went from having the highest sodium intake across 47 prefectures to being ranks 20th. We have expanded this program to 6 prefectures across the Tohoku region in northern Japan, and plan to grow it to another 39 in the future.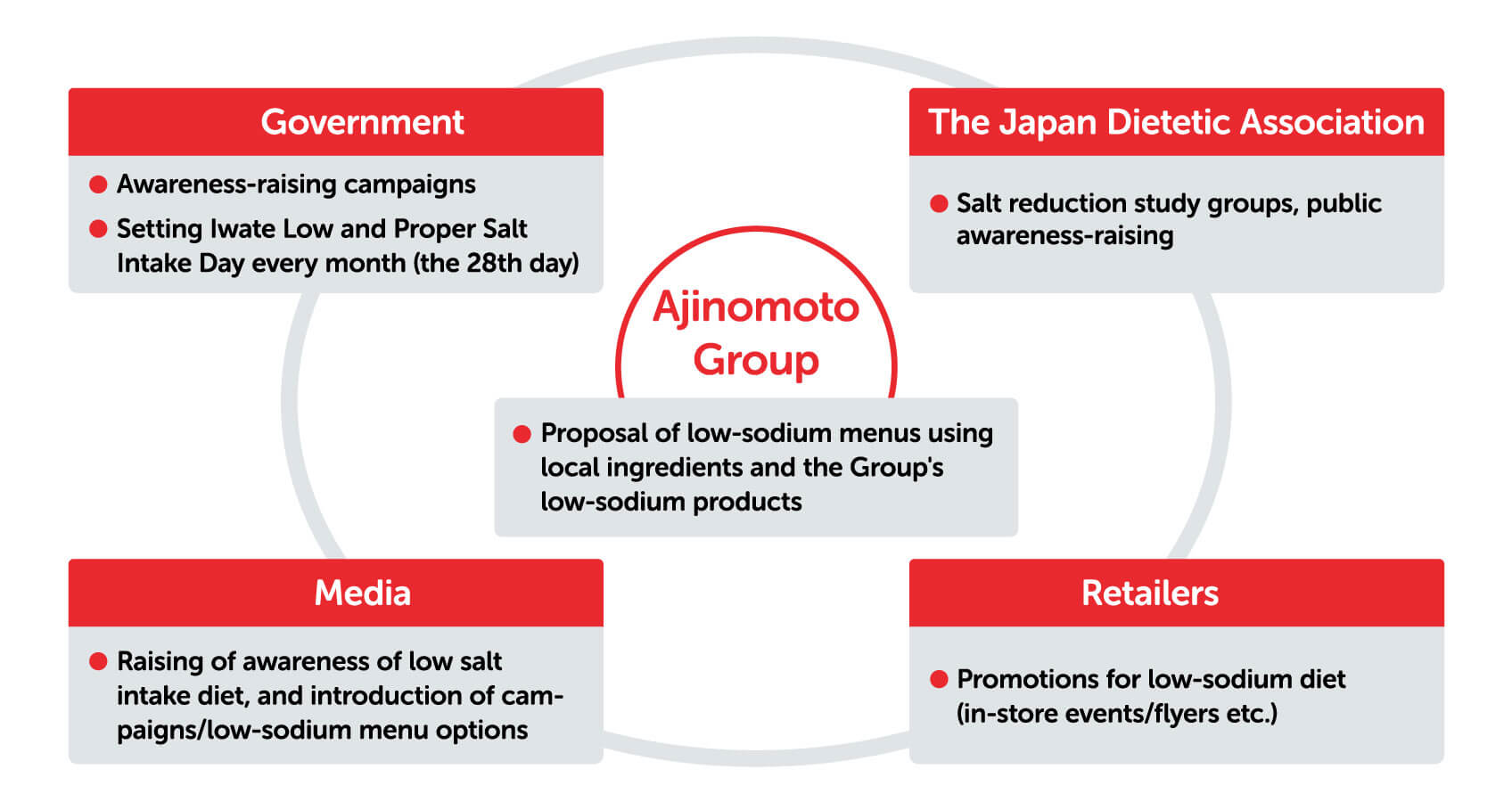 https://www.who.int/health-topics/hypertension/#tab=tab_1

https://www.who.int/news-room/fact-sheets/detail/hypertension

Halim J, Bouzari A, Felder D, and Guinard JX. The Salt Flip: Sensory mitigation of salt (and sodium) reduction with monosodium glutamate (MSG) in "Better-for-You" foods. J Food Sci. 2020 Sep;85(9):2902-2914. doi.org/10.1111/1750-3841.15354 (study supported by Ajinomoto)

Wallace TC, Cowan AE, Bailey RL. Current Sodium Intakes in the United States and the Modeled Effects of Glutamate Incorporation into Select Savory Products. Nutrients. 2019 Nov; 11(11): 2691. doi: 10.3390/nu11112691 (study supported by Ajinomoto Co. Inc.)

Federation of American Societies of Experimental Biology. Executive summary from the report: analysis of adverse reactions to monosodium glutamate (MSG). J Nutr. 1995 Nov;125(11):2891S-2906S.

Reports of the Scientific Committee for Food, 25th Series: First series of food additives of various technological functions. Brussels, Belgium: Commission of the European Communities; 1991.

Joint FAO/WHO Expert Committee on Food Additives. Evaluation of certain food additives and contaminants: L-glutamic acid and its ammonium, calcium, monosodium and potassium salts. Geneva: Cambridge University Press; 1988.

Food Standards Australia New Zealand. Monosodium Glutamate: A Safety Assessment. Canberra, Australia; 2003.

Smart Salt: 2020 Salt Reduction Survey