2022 "Food & Wellness Future Forum"
Ajinomoto Co., Inc. Hosts 3rd Food & Wellness Future Forum
Panel discusses practical, nutritionally balanced diets to help everyone achieve optimal health and fitness before an online audience of 1,300.
On September 1, 2022, the Ajinomoto Co., Inc. hosted the 3rd Food & Wellness Future Forum, part of its efforts to realize a healthier and more prosperous society by providing better access to accurate and reliable health-related information.
The title of this year's forum was "Eating for Optimal Health and Fitness—Tips for Practical, Delicious Nutrition." Using live chat and instant polling of the online audience, Dr. Yuka Honda, an expert on women's health, a guest who is in her 20s(Ms.Y), journalist Daisuke Furuta, and Ajinomoto Co., Inc. President and CEO Taro Fujie discussed how young Japanese women can build healthier bodies through better nutrition. The discussion was conducted in Japanese.
In Session One, "What's Your Ideal Body Type?", participants were invited to think critically about beauty standards held by young Japanese women and discuss the relationship between daily diet and health.
An audience poll during the session revealed that 62% of respondents felt that the body type they admired was borderline "underweight", as defined by BMI1. "I never really had the desire to be extremely thin," commented Ms. Y, a social media influencer in her 20s who also participated in the discussion, speaking from her own experience, "but I also felt insecure because everyone around me was extremely thin. In school, I used to skip meals because of it."
Responding to the audience poll, Dr. Honda explained that low-calorie, poorly balanced diets are to be avoided as they can not only cause unhealthy skin but also lead to irregular menstruation and raise the risk of infertility or osteoporosis later in life. "An important takeaway," said Mr. Furuta, "is that an accumulation of negative factors in youth can have a big impact down the road."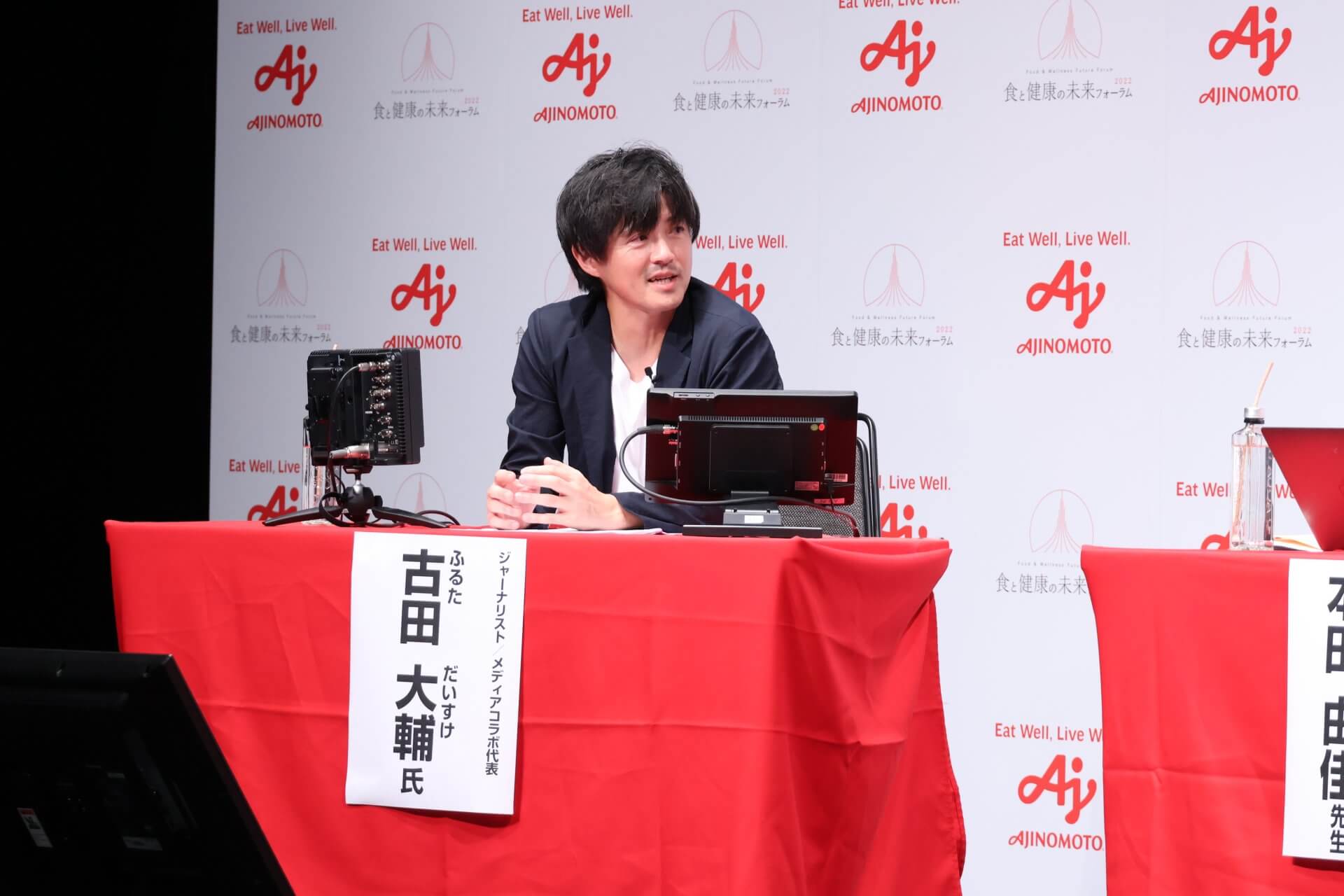 Furthermore, Dr. Honda cited an Ajinomoto Group survey of 1,000 Japanese women aged between 18 and 39 that showed that many who skip breakfast reported being more prone to fatigue, as compared to those who eat in the morning. She also talked about the health risks associated with skipping breakfast, and how much food women in their 20s should consume at each meal. "That's way more food than I thought!" said Ms. Y in surprise.
In Session 2, "Building the Body That's Right for You", the discussion focused on what it means to eat well, as well as tips for maintaining a well-balanced daily diet.
"Our body is made up of the food we eat," said Dr. Honda. "Food nutrients give us energy for our daily activities and are the building blocks of a healthy body. Eating well means giving our body what it needs." She explained that a well-balanced diet is important because "a healthy body is composed not only of muscle but also contains adequate body fat."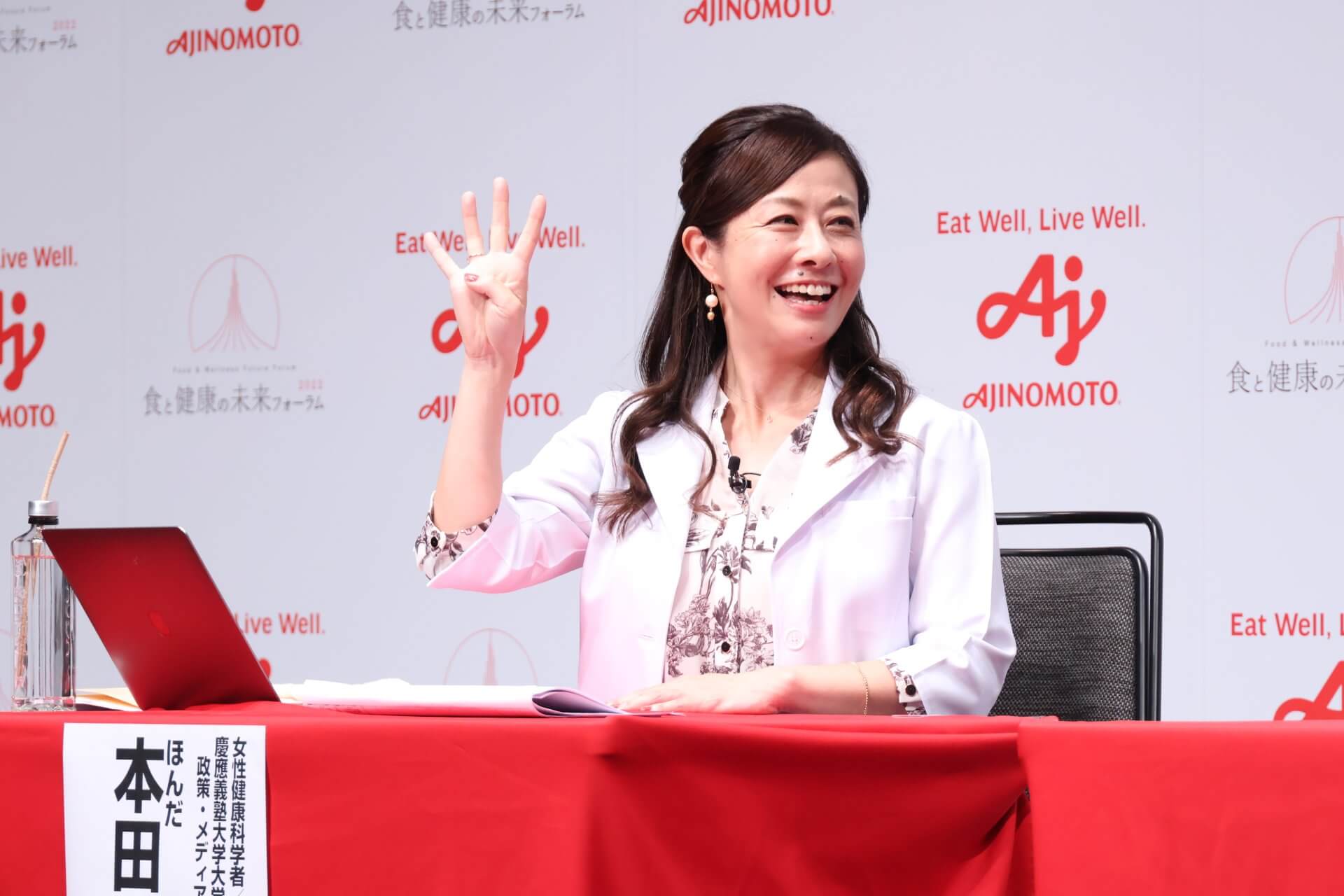 During the session, participants also watched videos featuring sports trainer James Shuichi Nakano talking about balanced nutrition for achieving one's physical fitness goals, and nutritionist Erika Shinohara offering simple tips for preparing well-balanced meals. "Being conscious of eating one staple food, one main dish, and one side dish2 at every meal seems doable," Ms. Y commented after watching the videos, "even for someone like me with an irregular schedule."
Afterwards, in the chat, the online audience shared their own hacks for practical, nutritionally balanced meals, such as batch cooking, supplementing home-cooked meals with store-bought food, and hearty soups. The tips resonated with Ms. Y: "I cook every day," she said, "On my days off, I make large batches to keep in the fridge, so on workdays I just need to cook one extra dish for a well-balanced meal. In summer, I often do a stir-fry using leftover vegetables boiled in broth for extra flavor!"
In response to a comment from someone who finds it difficult to eat a balanced diet due to working night shifts, Dr. Honda suggested, "Try eating a snack every three hours during your shift—like a banana or glass of soymilk—then, after work, make sure to eat a light meal, such as a bowl of soup with an egg in it."
This interactive session was followed by closing remarks by President Fujie: "I appreciate so many mostly young women joining us today, and in particular educating me about the social pressures in Japan on them to become thin, even at the expense their health," said Mr. Fujie. "Let's put these expectations behind us, and, little by little, begin practicing what has been discussed here today. As president of Ajinomoto Co., Inc., I'd be delighted to help you all to take that first step. Following extreme diets or unreasonably restricting your food intake is bad for both your physical and mental health. My company's goal is to do everything we can to help as many people as possible enjoy better health and happiness."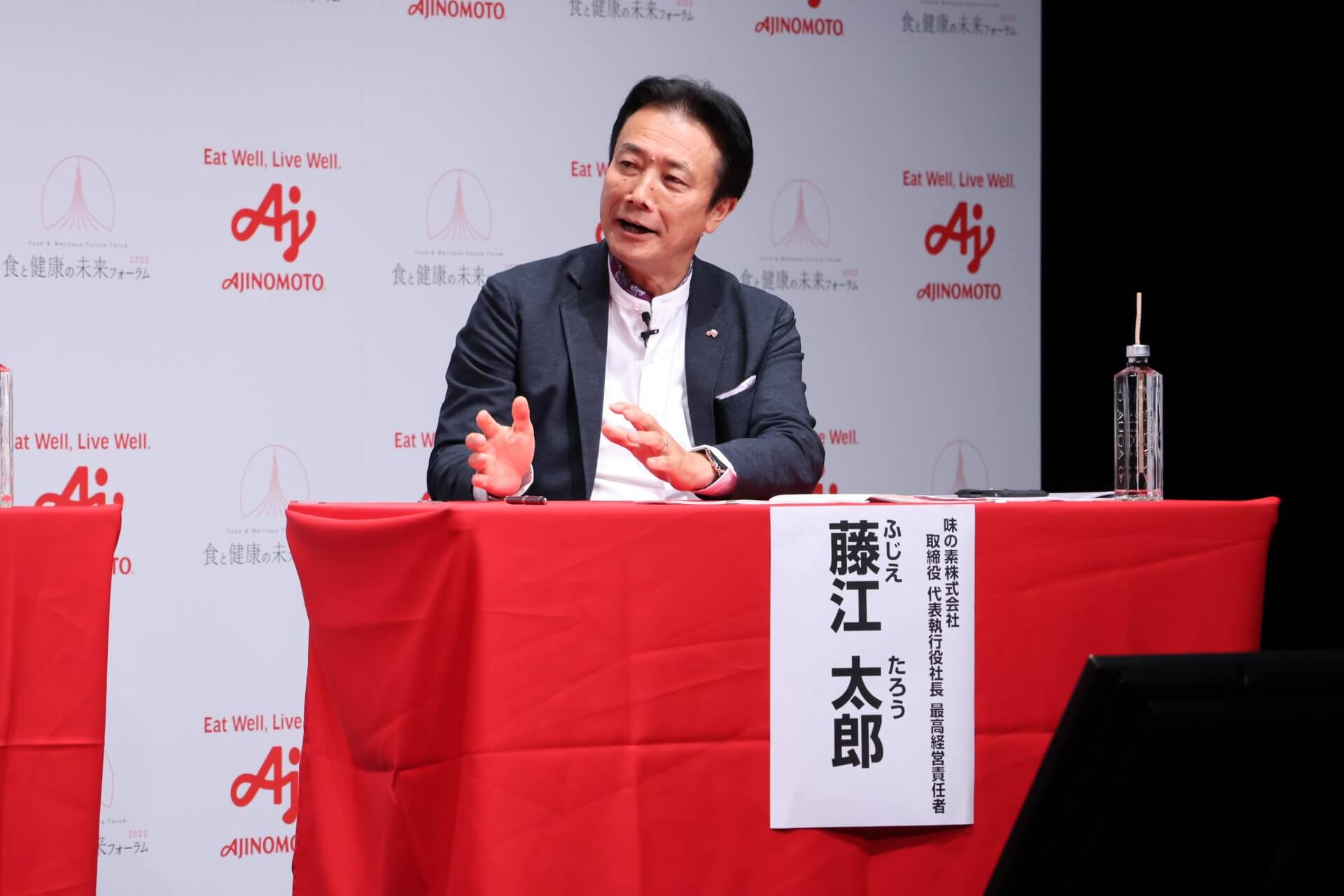 An audience poll given before and after the event posed the question, "Will you eat three meals a day in future?" Before the event, 66.4% of respondents answered, "I will eat/am eating three meals a day," as compared to 89% who gave a similar response after the event, an increase of nearly 23 percentage points. In addition, the forum helped raise awareness about the importance of nutritional intake, with 74% of respondents saying the forum had made them "more aware of the need to eat a well-balanced diet."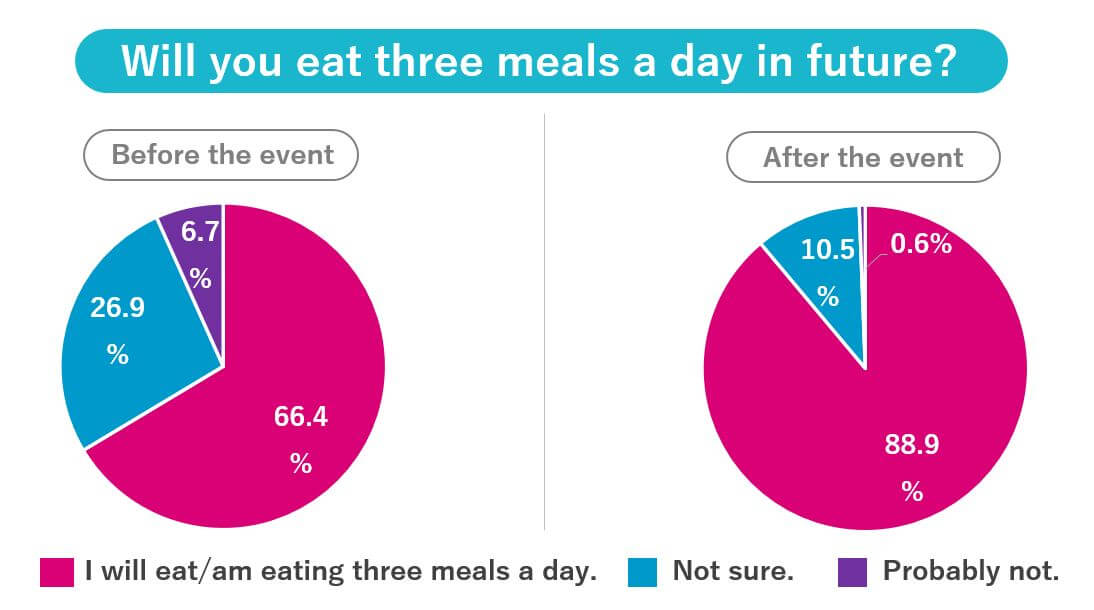 Event Overview
Name: The 3rd Food & Wellness Future Forum
Title:  "Eating for Optimal Health and Fitness—Tips for Practical, Delicious Nutrition"
Date: September 1, 2022 (online)
Participants
Moderator: Mr. Daisuke Furuta, journalist
Panelists:
Guest: Ms.Y (a social media influencer in the age of 20s)
Dr. Yuka Honda (Ph.D., women's health researcher and Associate Professor, Graduate School of Media and Governance, Keio University)
Mr. Taro Fujie (President and CEO, Ajinomoto Co., Inc.)
Program
Session One: "What's Your Ideal Body Type?"
• Optimal health and fitness begin with diet.
• Low-calorie and poorly balanced diets can lead to health issues.
Session Two: "Eating to Build Your Ideal Body"
• How to eat well every day to achieve a healthy body.
Closing Remarks: Ajinomoto Co., Inc. President & CEO Taro Fujie
Note 1: As this was a live event, some of the statements may reflect the participants' personal opinions or contain ambiguous language.
Note 2: This report is a summary. Some brief supplementary explanations have been added and the order of statements rearranged to improve the flow of the discussion.