Seasonings and Quick Nourishment
Japan

The Ajinomoto Group realizes value creation by leveraging the strengths of brand power, marketing, and R&D capabilities backed by over 100 years of history based on the diversifying needs of consumers.
While strengthening mainstay products, the Group will continue pursuing deliciousness. The Group will maintain its efforts to provide fine-tuned solutions that address various needs, including health-related needs such as salt and sugar reduction and the need for smart cooking.
Origin and Development of Business
The business started with the launch of AJI-NO-MOTO® in 1909. As competition surrounding umami seasonings intensified from the 1950s onward, the Ajinomoto Group swiftly diversified its operations.
During the rapid expansion of Japan's instant food market in the 1960s, the Group launched Knorr® Cup Soup through an alliance with a U.S. company. Utilizing the marketing methods thus cultivated, we expanded into new categories such as mayonnaise.
In the 1970s, Japan's economic boom gave way to an era of stable growth. As a preference for convenience grew due to an increase in women working outside the home, among other factors, the Group developed its original HONDASHI® and Chuka Aji flavor seasonings and Cook Do® premixed sauces.
In the 1980s, women made further advances in the workplace and sales grew rapidly. This approach of expanding the product rollout from AJI-NO-MOTO® to flavor seasonings and processed foods was also used later in the International Food Products business.
Since then, we have continued to expand business in each field by constantly improving products and launching new products that address consumer needs.
Market Changes and Response in Recent Years
Consumer needs are diversifying in Japan as the population shrinks and lifestyles change. Changes are also apparent in consumer purchasing channels, not only at existing mass merchandisers, drug stores and convenience stores, but also in other areas such as e-commerce.
Amid these changes, the Ajinomoto Group will meet needs by rolling out high-value-added products, offering item-by-item cooking ideas on its recipe site, and developing products for each channel, among other approaches.
On the production side, the Group is conducting a reorganization to put in place a system that enables flexible production. We have also begun logistics reform to resolve various issues in food distribution (a shortage of truck drivers, rising distribution costs, the need for environmental preservation, etc.), and will pursue initiatives in cooperation with other food manufacturers.
Related Links
Coffee Products
Origin and Development of Business
As the Ajinomoto Group diversified its businesses from the 1960s onward, it came to regard the growing instant coffee market as a promising area. In 1973, the Group entered the coffee business in Japan by acquiring 50% of the shares of General Foods (Japan) and establishing Ajinomoto General Foods, Inc.
With the technology of General Foods Corporation and the sales expertise of Ajinomoto Co., Inc., the business has continued to grow, creating new markets by developing products in the new categories of regular and stick-type coffee, in addition to instant coffee.
In 2015, Ajinomoto Co. acquired the remaining 50% of shares, made the company a consolidated subsidiary, and in 2017, changed its name to Ajinomoto AGF, Inc. In 2016, Ajinomoto Co. also acquired the trademarks that had been licensed to the company, making it possible to develop an unrestricted brand strategy outside Japan. Moving forward, Ajinomoto AGF, Inc. will also provide technological support for local beverages and powdered drinks businesses and take on a central role in the Ajinomoto Group's beverages business.
Market Changes and Response in Recent Years
In Japan, coffee-drinking habits are changing from inside to outside the home. One reason for this change was the Ajinomoto Group's creation of a market for coffee counters at convenience stores, providing delicious coffee at a reasonable price.
We will continue to respond to growing outside-the-home demand and promote product personalization to respond to diversifying preferences.
Related Links
Overseas

Leveraging the strengths of global product development, production, and sales networks as well as our marketing capabilities and brand power, the Ajinomoto Group offers products and services that contribute to delicious tastes tailored to the eating habits of local consumers, as well as nutritional improvement.
By utilizing local raw materials to create added value, expanding employment opportunities and applying Japanese technologies, the Group will contribute to the evolution of the local food industry. Through these efforts, the Group will continue to realize a harmonious coexistence with local communities and consumers.
Origin and Development of Business
Following the initial Japanese launch of AJI-NO-MOTO® in 1909, the Ajinomoto Group worked to proactively develop overseas markets, beginning with exports to countries in Asia that share dietary habits with Japan.
We set up offices in various Asian countries from the 1920s onward. We then established overseas subsidiaries in North, Central and South America and Europe, and built a series of local plants starting in Thailand in the 1960s.
We produced AJI-NO-MOTO® using a fermentation method that draws on locally produced raw materials. Currently sold in more than 100 countries worldwide, it is the Group's flagship global brand.
With the rise in income levels in Southeast Asia and Brazil since the 1980s, consumer demand has turned toward flavor seasonings and processed foods. To address this shift, we developed and rolled out products including flavor seasonings, menu-specific seasonings, instant noodles, soups and powdered drinks with flavors and brand names tailored to each region. We have worked to diversify our businesses, such as becoming the first to develop and sell canned coffee in Thailand in the 1990s.
Today, we are rolling out categories in accordance with the dietary habits and culture of each country or region, mainly in ASEAN and South America, where the scale of sales is large. We are also developing new regions such as Turkey, the Middle East and Africa in cooperation with leading local players.
Market Changes and Response in Recent Years
In Southeast Asia and South America, the middle-class demographic has expanded as income levels have improved. In tandem with urbanization and changing lifestyles, the market has diversified from traditional market stalls to convenience stores and mass retailers. Other notable changes include rising demand for highly processed products that are easy to prepare, and we are making progress in addressing such demand in each country.
Approach to Product Expansion in the Ajinomoto Group
Related Links
Solutions & Ingredients

Origin and Development of Business
With the launch of AJI-NO-MOTO® as a retail product, the Ajinomoto Group also began to supply it in bulk as a raw material for manufacturing soy sauce. Thereafter, the Group worked to expand sales channels for large-scale customers in Japan and began overseas sales in the 1930s in response to demand from U.S. food manufacturers.
Overseas production of AJI-NO-MOTO® began in the 1950s, mainly in Southeast Asia and Central and South America, and bulk exports also grew. Furthermore, bulk products are exported to Ajinomoto Group companies in other countries, where they are packaged and sold as retail products.
In the 1960s, following on from retail products, we began bulk sales of nucleotide seasonings to domestic customers. We later began exports from Japan, and in the 2000s we built a plant in Thailand. We now sell products in more than 50 countries worldwide using the sales channels for AJI-NO-MOTO®.
In the field of seasonings for processed food manufacturers, during the 1960s we launched savory seasonings that replicate the flavors of natural foodstuffs. These seasonings were developed in the process of amino acid research. In the 1990s, the Group began sales to major customers of enzyme preparations, which can be used to improve the texture of a wide range of processed products, and also started overseas production and sales.
We started the business in the 1980s by utilizing our amino acid manufacturing technology to launch aspartame, an amino acid-based sweetener. In addition to products for industrial customers mainly in major markets in the United States and Europe, this led to the launch of the PAL SWEET® brand as a retail product in Japan.
Currently, we sell aspartame to industrial customers in about 80 countries around the world. Our retail products hold the clear leading market share in Japan.
Market Changes and Response in Recent Years (Including Retail Products)
Worldwide demand for monosodium glutamate (MSG) continues to grow, backed by factors such as rising mean income and population growth in emerging countries. Demand is growing steadily in Southeast Asia, South Asia and Africa.
Demand for nucleotide seasonings is also expected to continue growing due to the expansion of the market for processed foods and a trend toward adding more seasonings to products.
The Ajinomoto Group's market share for both product categories is one of the world's largest, and we intend to maintain a dominant market position.
The global high-intensity sweetener market continues to grow due to corporate customer needs to reduce sweetener costs and rising calls to reduce sugar, which is associated with an increase in related health issues worldwide. We will contribute to consumer health and wellbeing around the world by providing the value of stress-free deliciousness that sugar cannot match.
Umami Seasoning Production Bases*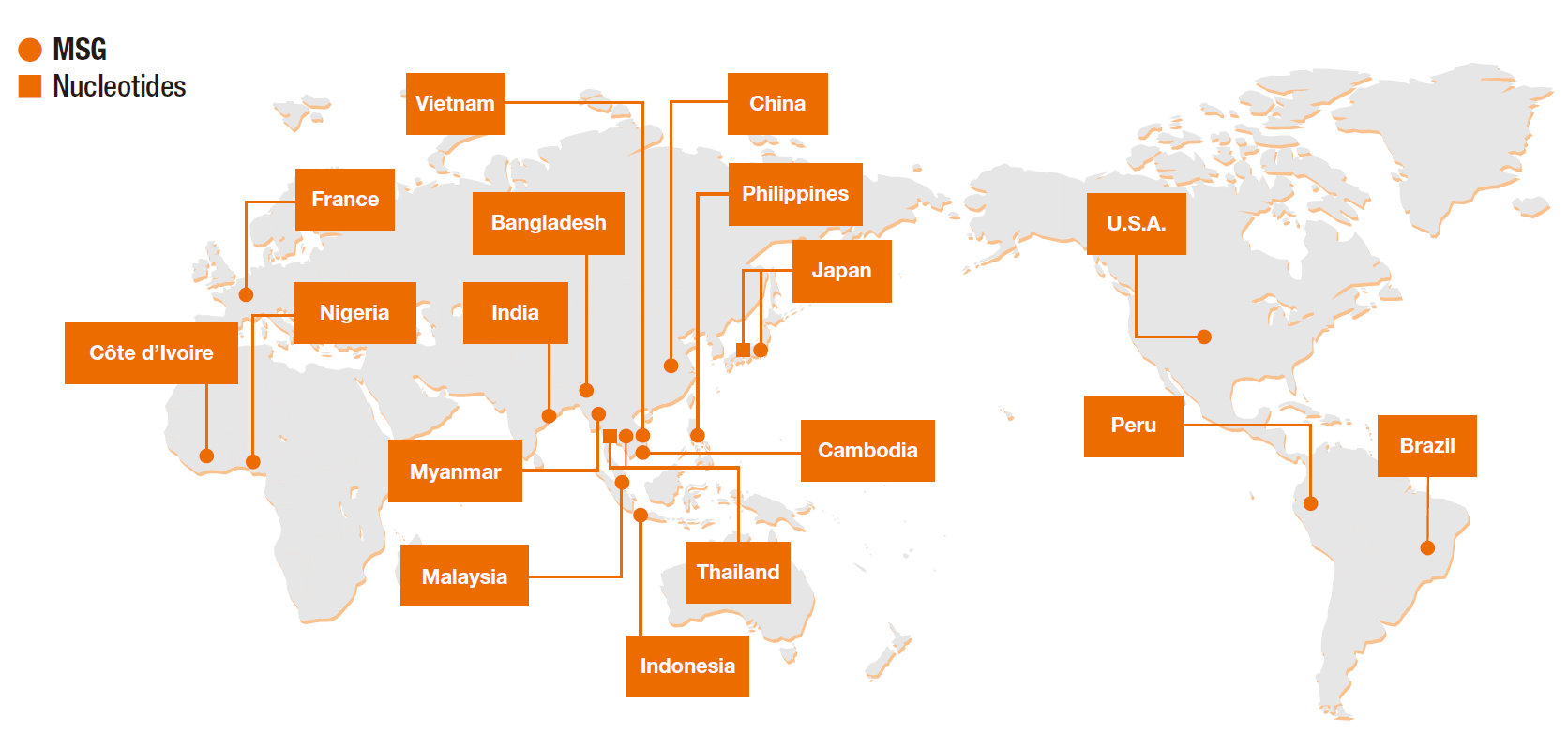 Related Links