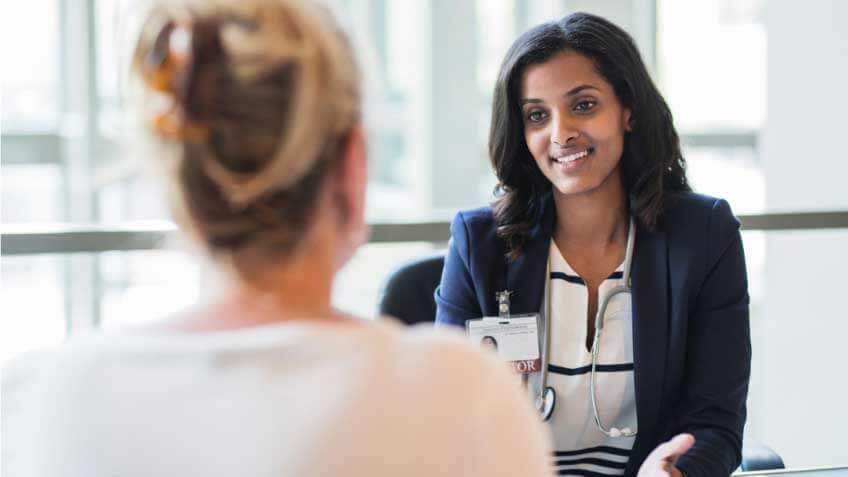 Since our founding, the Ajinomoto Group has developed businesses around the world committed to sharing our aspiration to "Eat Well, Live Well."
In accordance with the Group Shared Policy on Human Resources, we strive to provide a workplace environment that helps employees maintain and improve their mental and physical health, so that through our businesses we can maximize our contribution to food, health, and a better life tomorrow.
Health Management Initiatives
In the belief that our employees' health and well-being is key to their motivation and personal growth, the Ajinomoto Group strives to offer a workplace environment that enables employees to maintain and improve their mental and physical health. We aim to foster a "culture of health" that supports the health and well-being of employees while encouraging a high level of health knowledge and an awareness of the need for self-care. This is our vision of health management.
Promote employee health and well-being through self-care
The Ajinomoto Group will support self-care and implement employee health policies consistent with its values.

Promote employee health policies consistent with local circumstances and conditions
Each Group company will assign a dedicated person to implement employee health policies consistent with circumstances and conditions in the country where they operate.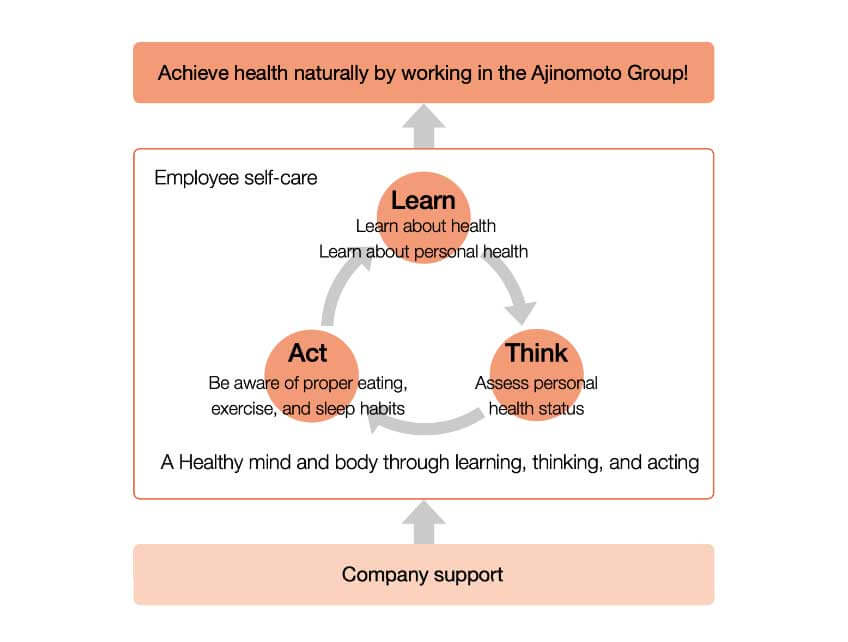 External Assessment
The Ajinomoto Group is highly rated in the Access to Nutrition Foundation's global rankings of corporate health and nutrition initiatives.
Diversity & Inclusion
A company cannot recruit the best talent unless it offers an attractive workplace environment. To achieve this, we will increase our investment in human resources to become a more productive and problem-solving-oriented organization and promote diversity and inclusion to accelerate innovation. By 2030, Ajinomoto Co., Inc. is committed to increasing to 30% the proportion of female directors and line managers in our workforce. Additionally, we will upgrade our pioneering workstyle initiatives to improve responsiveness to external changes.
Transforming Our Corporate Culture Through Diversity & Inclusion
To accelerate innovation, a company must have a diverse workforce with respect to gender, age, nationality, background, and experience and to empower employees to exercise their abilities to the fullest extent. That means embracing not only gender diversity but also individuals with disabilities, LGBTQ individuals, and those from different cultural backgrounds, in order to foster a corporate culture that leads to fulfilling careers and a workplace environment where employees can grow together with the company. D&I initiatives are a key management strategy for the Ajinomoto Group. We not only practice D&I in hiring and promotion but also implement initiatives to encourage diverse workstyles and career paths. At the same time, we are also working to realize a corporate culture and a workplace environment where employees with differing strengths can contribute their skills while feeling highly engaged in their work.
Examples of D&I initiatives
Note: Includes initiatives undertaken in Japan, globally, and by Ajinomoto Co., Inc.
Unconscious bias training

E-learning related to human rights

Annual e-learning related to D&I and LGBTQ issues

Provision of on-site childcare or affiliated daycare centers

Disability-friendly workplaces
Find out more:
For more on the Ajinomoto Group's corporate culture, please refer to Ajinomoto Group Policies, section 5, "Approach to Human Rights," and section 6, "Human Resources Training and Ensuring Safety":
Initiatives to Support Women's Participation and Advancement in the Workplace
In October 2017, Ajinomoto Co., Inc. established a committee, chaired by a D&I and human resources executive, aimed at supporting women's participation and advancement in the workplace.
Of course, having women in key positions alone does not constitute women's active participation in the workplace. At the same time, incorporating diverse viewpoints, including those of women, into the decision-making process is essential for the long-term sustainability of the enterprise.
Ajinomoto Co., Inc. defines women's participation as "women playing an active role as decision-makers from positions of responsibility in a wide variety of situations," and the company is accelerating efforts to achieve this.
These efforts include the AjiPanna[1] Academy, an initiative begun at Ajinomoto Co., Inc. in July 2020 to create opportunities for women to advance their careers. Its main activities include career workshops for female employees in non-managerial positions and their supervisors, leadership training for female employees chosen from the career workshops, and a mentorship program for women in key positions. In the last, officers and organization heads serve as mentors to female managers and executives and provide capacity development in an objective, non-supervisory role, with the aim of accelerating their career advancement. Among other benefits, this serves not only to broaden their perspectives but also expand their internal networks.
AjiPanna is the sister of AjiPanda, Ajinomoto Co., Ltd.'s global ambassador. https://www.ajinomoto.com/aboutus/ajipanda-official-page
The Ajinomoto Group aspires to realize a future where every member of society and every employee is respected and able to participate fully regardless of gender, age, nationality, background, or experience. We believe that a corporate culture which embraces diversity is fertile ground for innovation, and that personal growth is the foundation which enables individuals to achieve their full potential. We see D&I initiatives as having a positive impact not only on the Ajinomoto Group but society as a whole. Find out more: 
---