Sustainability: Environment
Modal Shift: a flexible logistics solution that eases truck driver shortages while reducing environmental impacts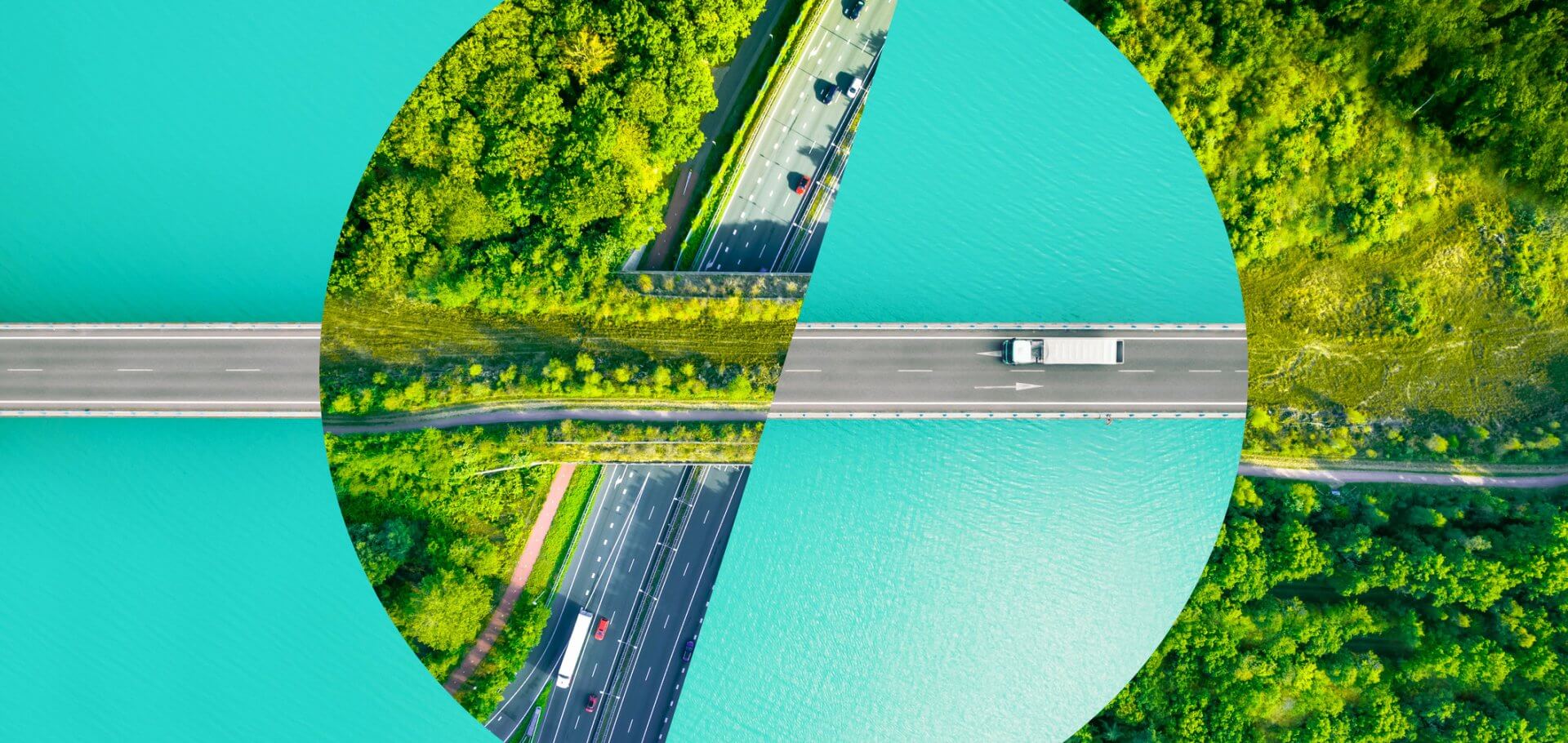 Reading Time: 5minutes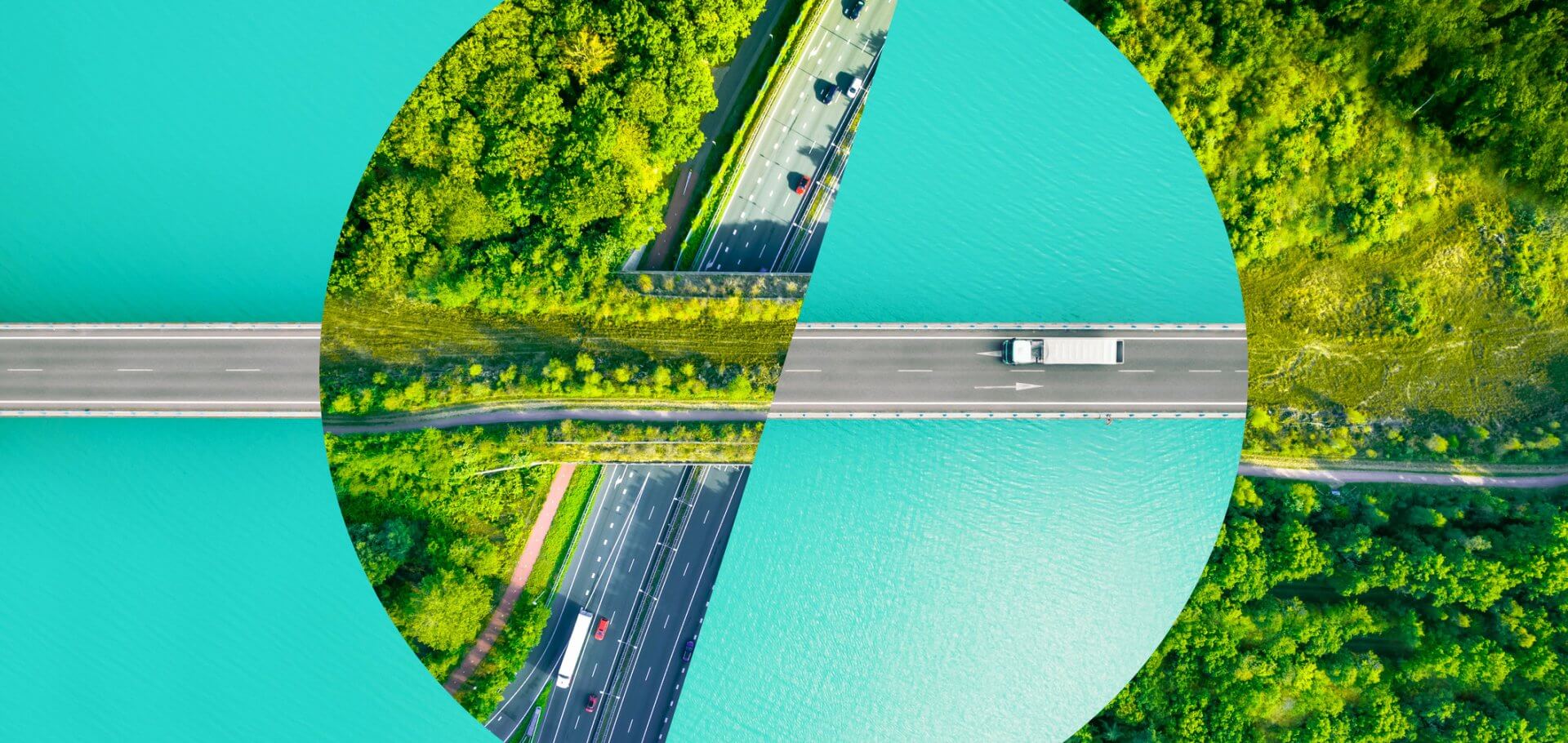 Worldwide truck driver shortages threaten supply chains
Since early 2022, when the world began emerging from the COVID-19 pandemic, demand for transportation has grown steadily. According to a report published in November 2022 by the International Road Transport Union, the shortage of truck drivers is now spiraling out of control in Europe and North America, fueled by an ageing driver population and tighter regulation of working hours. It's estimated that without action Europe will have over two million vacant driver positions by 2026, impacting half of all freight movements and putting already stressed economies and communities at higher risk of inflation and supply chain meltdowns.
In Japan, too, growing demand and new regulations set to go into effect in 2024 under the government's Work Style Reform Act that limits working hours are expected to exacerbate the post-pandemic shortage of drivers. It's said Japan's logistics industry is facing a crisis, and if nothing is done companies will be unable to meet demand for goods in the timely manner consumers have become accustomed to.
Modal shift promises strong, flexible logistics
In anticipation of such a crisis, Ajinomoto Co., Inc. has long been working to build a logistics system not overly dependent on truck transportation. The solution: a modal shift—namely, moving freight transportation away from dependence on trucks and other motor vehicles towards greater utilization of railroads and ships, which have the added benefit of lower environmental impact. Per ton-kilometer, ship and rail emit just 20% and 10% as much CO2, respectively, as trucks.
Another advantage is that multiple transportation options reduce risks posed by natural disasters. "Modal shift is a way to realize strong and flexible logistics," says Hisayuki Kumamoto, Logistics Planning Manager at Ajinomoto Co. "Nowadays, due to global warming, natural disasters are happening more frequently. With multiple transportation routes, we can shift goods to rail if an earthquake or landslide disrupts roads, or to ship if rail lines are disrupted. This ensures stable logistics in an emergency."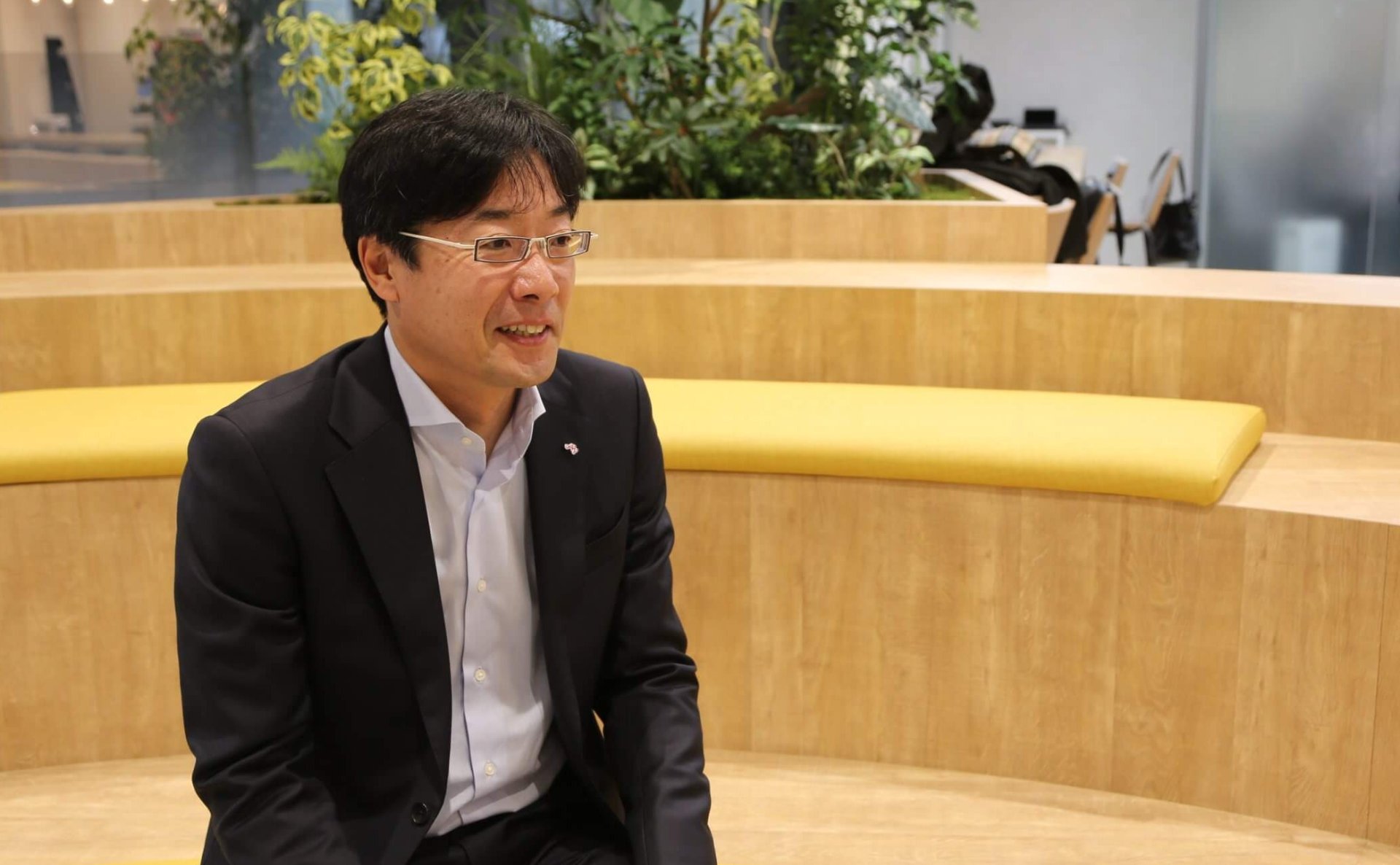 History of Modal Shift at Ajinomoto Co.
In 1997, the year the Kyoto Protocol was adopted, Japan's government urged companies to address global warming by increasing their modal shift ratio to 50% by 2010. This ratio represents the proportion of all commercial goods transported by rail or sea over distances of 500 km or more.
While Ajinomoto Co.'s own modal shift initiative dates to 1995, its roots go back even further. "In the 1950s, the company began transporting an amino acid product used in soy sauce in rail tank cars," recounts Kumamoto. "On the return journey, the tanks were used to transport other products. This enabled us to lower costs and thus expand our sales network."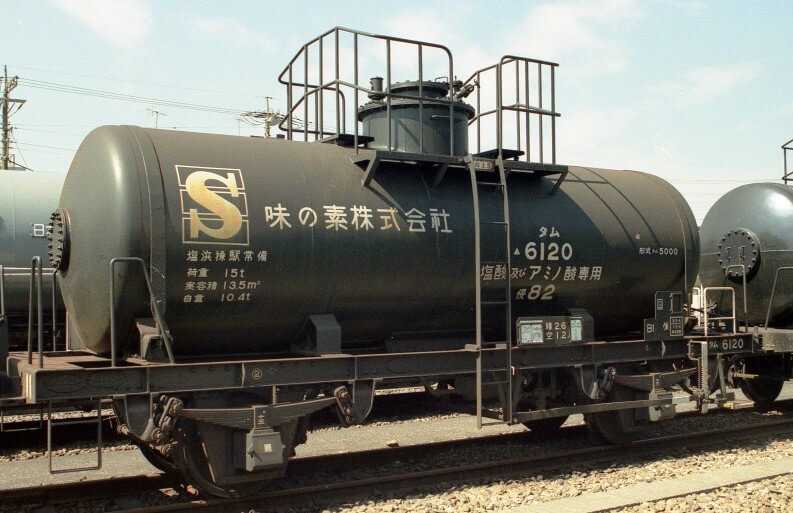 In 2011, Ajinomoto Co.'s distribution center in Kawasaki was severely damaged by the Great East Japan Earthquake. Determined to build a more resilient logistics system, Ajinomoto Co. began to decentralize and diversify its distribution routes. In response to a rail container shortage, new containers were purchased through a government subsidy program, and partnerships with other manufacturers were formed to ensure these were fully utilized on both outbound and return journeys. At the same time, ship transportation was introduced. As a result of these efforts, the company's modal shift rate increased to about 80%.
In 2018, devastating floods in southwestern Japan disrupted roads and railroads across the region. In response, Ajinomoto Co. reexamined logistics routes and reorganized production facilities. In some cases, two-stage truck transport was replaced by a single ship journey; in others, new shipping routes were added to hedge against risk by utilizing both the Pacific Ocean and the Sea of Japan. Through these efforts, the modal shift ratio rose further to about 85%.
But truck transportation has not gone away. In late 2022, Ajinomoto Co. introduced double articulated vehicles, which reduce both labor costs and CO2 emissions. With 2.5 times the cargo capacity of standard trucks, double tractor-trailers can reduce emissions by 30%. And, with shorter lead times than rail or ship transportation, trucks are key to preventing delays and inventory backlogs when responding to urgent orders.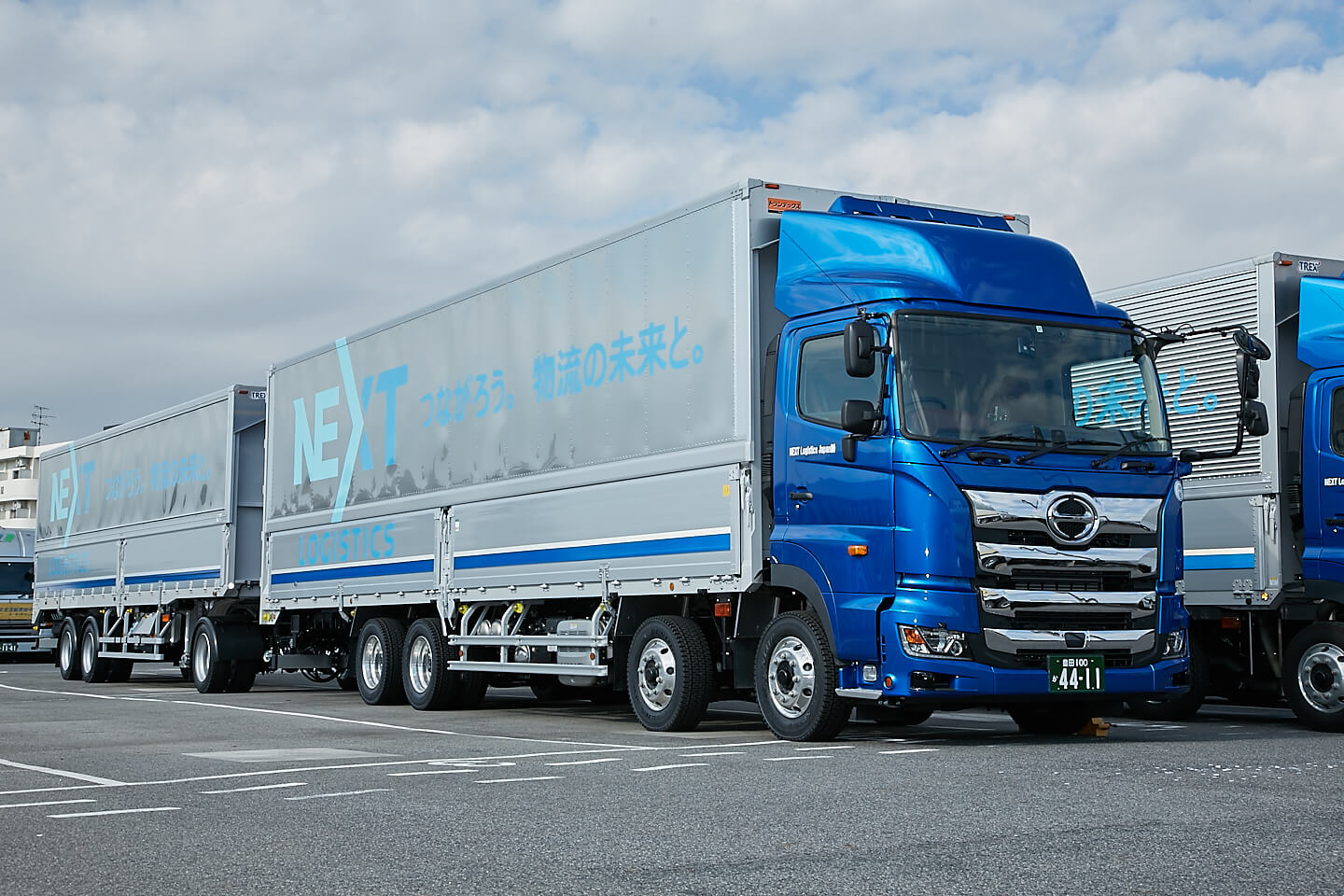 F-LINE contributes to solving logistics issues
Challenges remain, however. Ships and trains have fixed departure times and are slower and less flexible than road transport, with longer lead times and higher costs for shorter journeys, as trucks still must transport goods to and from ports and rail depots. Logistics centers are often far away, so transshipment and parking facilities at ports and rail depots need to be improved. Optimizing cargo space is yet another issue, with ships and trains tending to carry fewer goods than their capacity allows. While using larger lots can improve loading rates and times, this can swell inventories.
Based on the philosophy "compete on products, cooperate on logistics," Ajinomoto Co. has established the company Food Logistics Intelligent Network (F-LINE) in cooperation with fellow food companies House Foods, Kagome, and Nisshin. F-LINE's Multi-modal Service Center assists partner companies by keeping an eye on weather information and road conditions and proposing alternatives. According to Kumamoto, it has been key to Ajinomoto Co.'s modal shift initiative. "Not only does it formulate transportation plans and arrange truck and ship transport," says Kumamoto, "it also supports companies in reducing their environmental impact and solving driver shortages."
By balancing transportation methods depending on the situation and optimizing lead times, Ajinomoto Co. has pushed its modal shift rate above 90%, as compared to a reported 50–60% for other companies. While trucks will remain key to logistics in the processed food industry, continued evolution in response to new transportation developments and technologies is crucial. Above all, a modal shift initiative that flexibly combines transportation methods and routes to achieve a sustainable, efficient, and stable logistics system is helping propel the Ajinomoto Group toward its goal of halving its environmental impact by 2030.