Sustainability: Environment
AJI-NO-MOTO® paper packaging: reducing plastic waste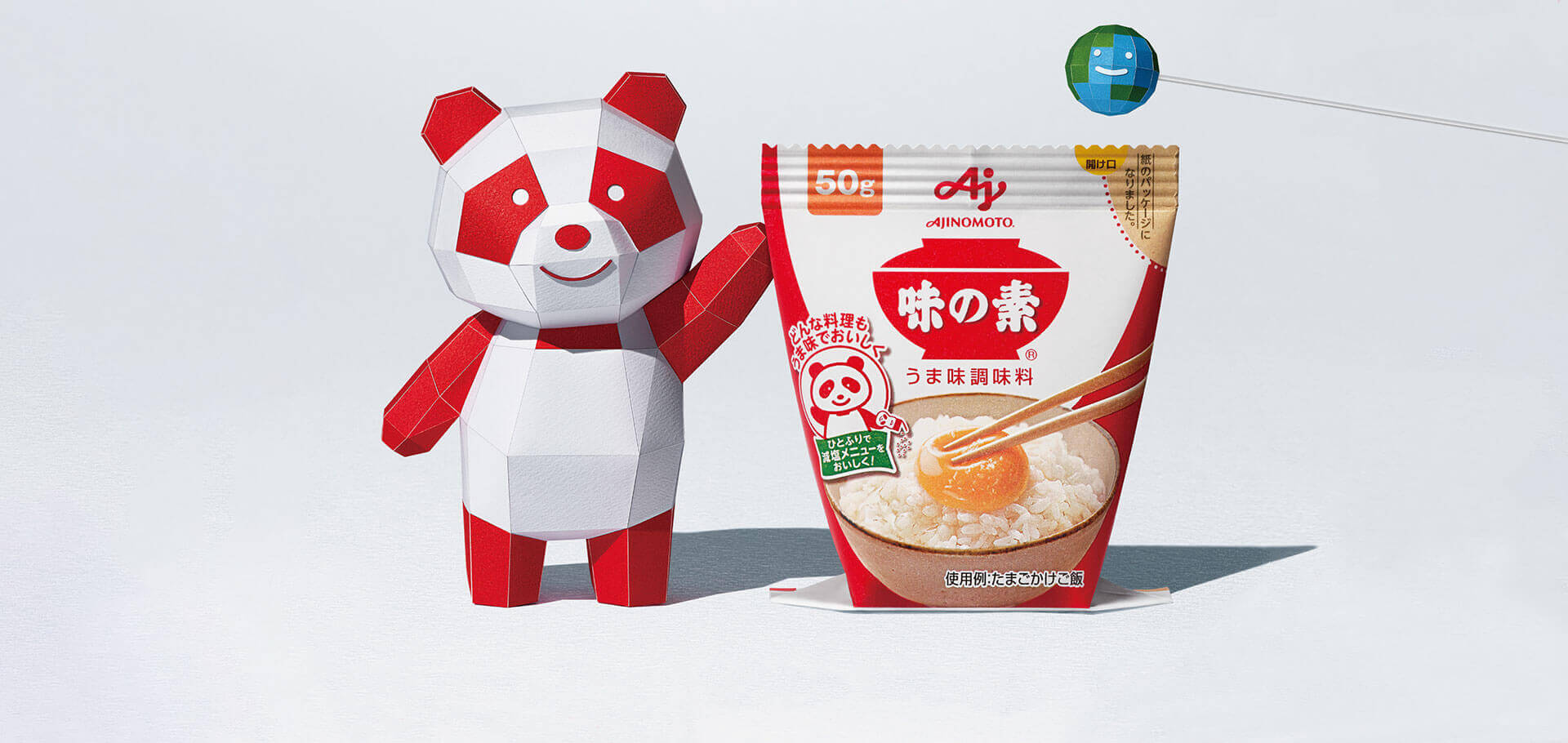 Reading Time: 4minutes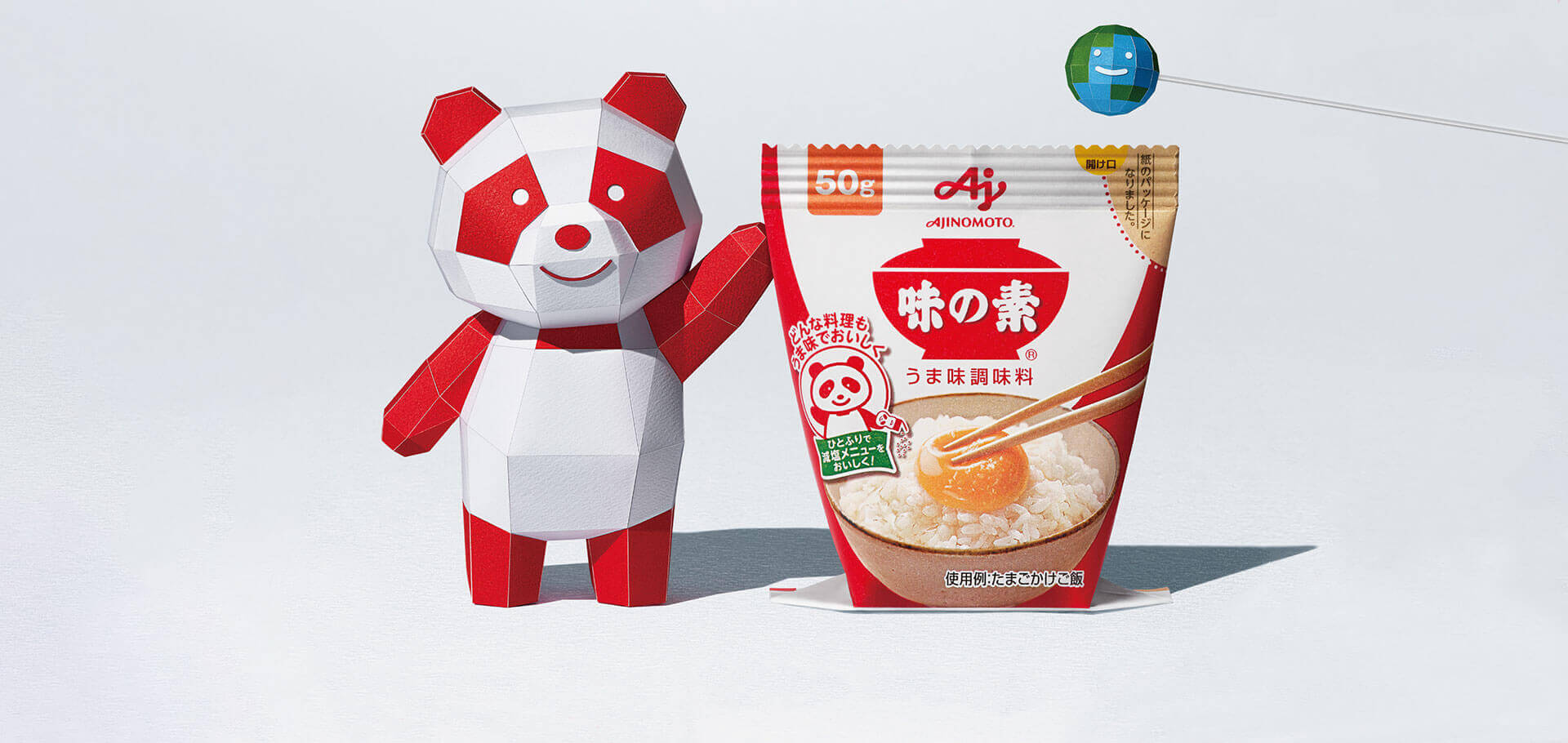 Though the first modern plastic—Bakelite—was invented way back in 1907, until the mid-20th century, most everyday products still came in eco-friendly packaging: recyclable or reusable glass and metal containers or bio-degradable paper. Then along came inexpensive, mass-produced single-use plastics. Lighter, easier to use, and more hygienic, plastic packaging keeps food fresher longer. Unfortunately, it can be difficult to reuse or recycle and takes up to 1,000 years to biodegrade.
Launched in 1909, AJI-NO-MOTO® umami seasoning has been around almost as long as plastic. While it has evolved over the past century—with plastic packaging introduced to accommodate mass production––in Japan the Ajinomoto Group's flagship product is still available in its iconic red-capped reusable glass bottle. AJI-NO-MOTO®'s younger counterpart, Umami Dashi Hi-Me®1 , launched in 1962, was also originally sold in a glass bottle. Today, both are among the Ajinomoto Group's longest selling and most widely loved products.
1 Umami Dashi Hi-Me®: a seasoning which contains monosodium glutamate, disodium inosinate and disodium guanylate.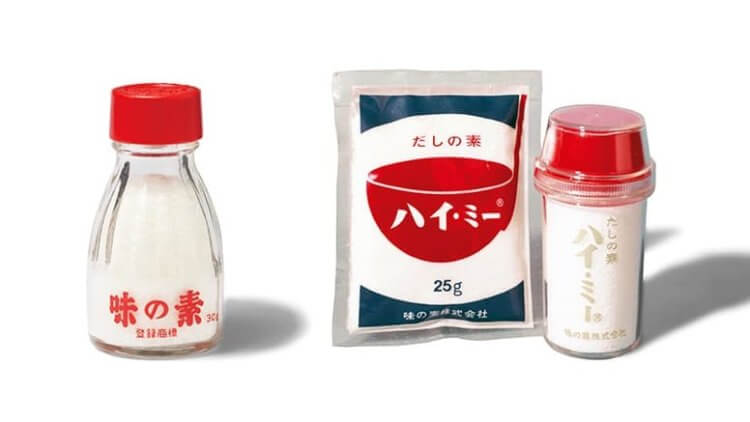 Introduction of paper packaging aims to reduce plastic waste
Now time is moving backwards, so to speak, for the two iconic brands. Starting February 19, 2022, AJI-NO-MOTO®  is available in Japan in bags made from a paper-plastic composite material. Other bagged varieties in the AJI-NO-MOTO® and Umami Dashi Hi-Me® lineups were switched over from mid-March 2022. Proprietary technology makes the new packaging comparable to the current plastic packaging in terms of durability, moisture resistance, and ease of opening. It also performs 1.4 times better than plastic and 2.6 times better than conventional paper packaging in terms of puncture strength.
As part of efforts to halve its environmental impact by 2030, the Ajinomoto Group has been working to reduce and eliminate plastic waste by introducing paper packaging. The new AJI-NO-MOTO® umami seasoning and Umami Dashi Hi-Me® paper-plastic composite packaging is expected to reduce the Group's plastic usage by about 34%, or 12 tons, per year. It's also hoped this move by an industry leader will have a ripple effect and prompt other companies to adopt more eco-friendly packaging.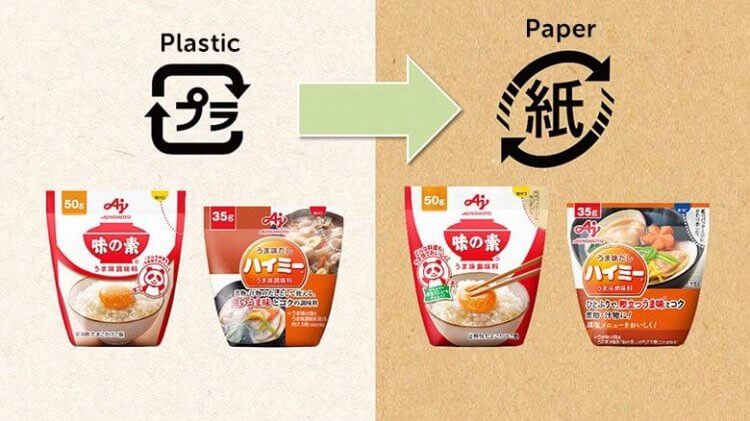 Reducing plastic without sacrificing strength
The transition to the new composite packaging was not without challenges, however. The granular nature of AJI-NO-MOTO® and Umami Dashi Hi-Me® posed a risk of material failure during distribution and transportation. There were also concerns water could seep through the packaging during handling, or that the contents might absorb moisture and harden during storage, especially in hot, humid climates.
Over a two-year period, 19 different materials were considered and upwards of 20 prototypes tested. The developers considered many factors, from the package's ability to stand up by itself on store shelves and the ease of transferring the contents to a reusable container, to printing and design considerations.  Although functional plastics were adopted to impart stiffness, strength, and moisture resistance, paper comprises more than 50% of the total material. Moreover, the higher cost of the materials was offset by reducing packaging size for certain product sizes.
Pro-planet initiatives worldwide
Overseas product initiatives include the discontinuation of package headers for Masako®, Ajinomoto Indonesia's flagship flavor seasoning product, the introduction of paper packaging for AJI-NO-MOTO® products sold in Indonesia, and the phasing out of inner bags in some AJI-NO-MOTO® products sold by Ajinomoto Thailand. These efforts should reduce annual plastic usage by approximately 864 tons for Ajinomoto Group products sold across Southeast Asia.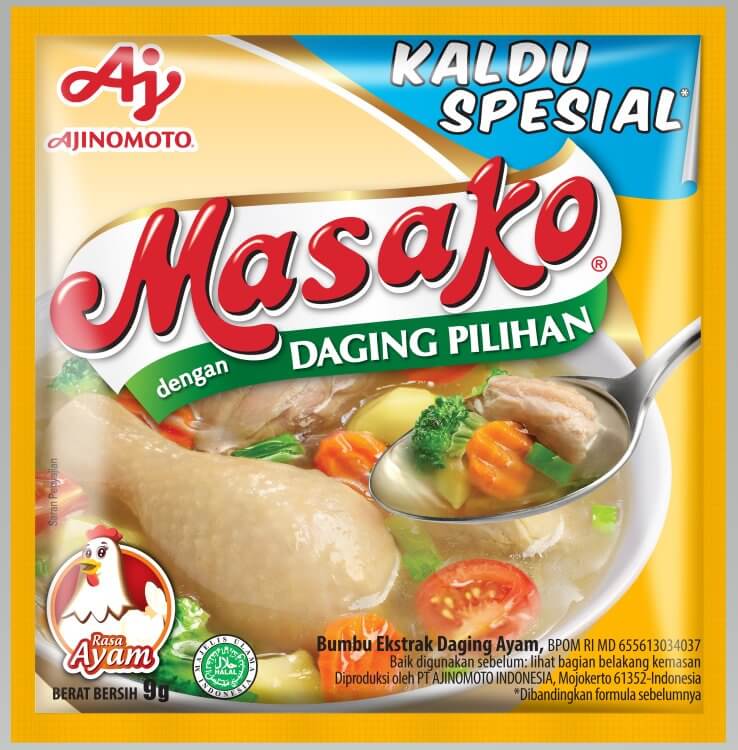 A wide range of natural resources go into the many products that the Ajinomoto Group manufactures and sells around the world. While ensuring that we make maximum use of those precious and limited resources, we aim to contribute to the realization of a sustainable, recycling-oriented society, reducing both waste and the environmental impact of our packaging, as part of the goal of continuing to be a long selling and beloved brand.