Grapefruit Peel Steak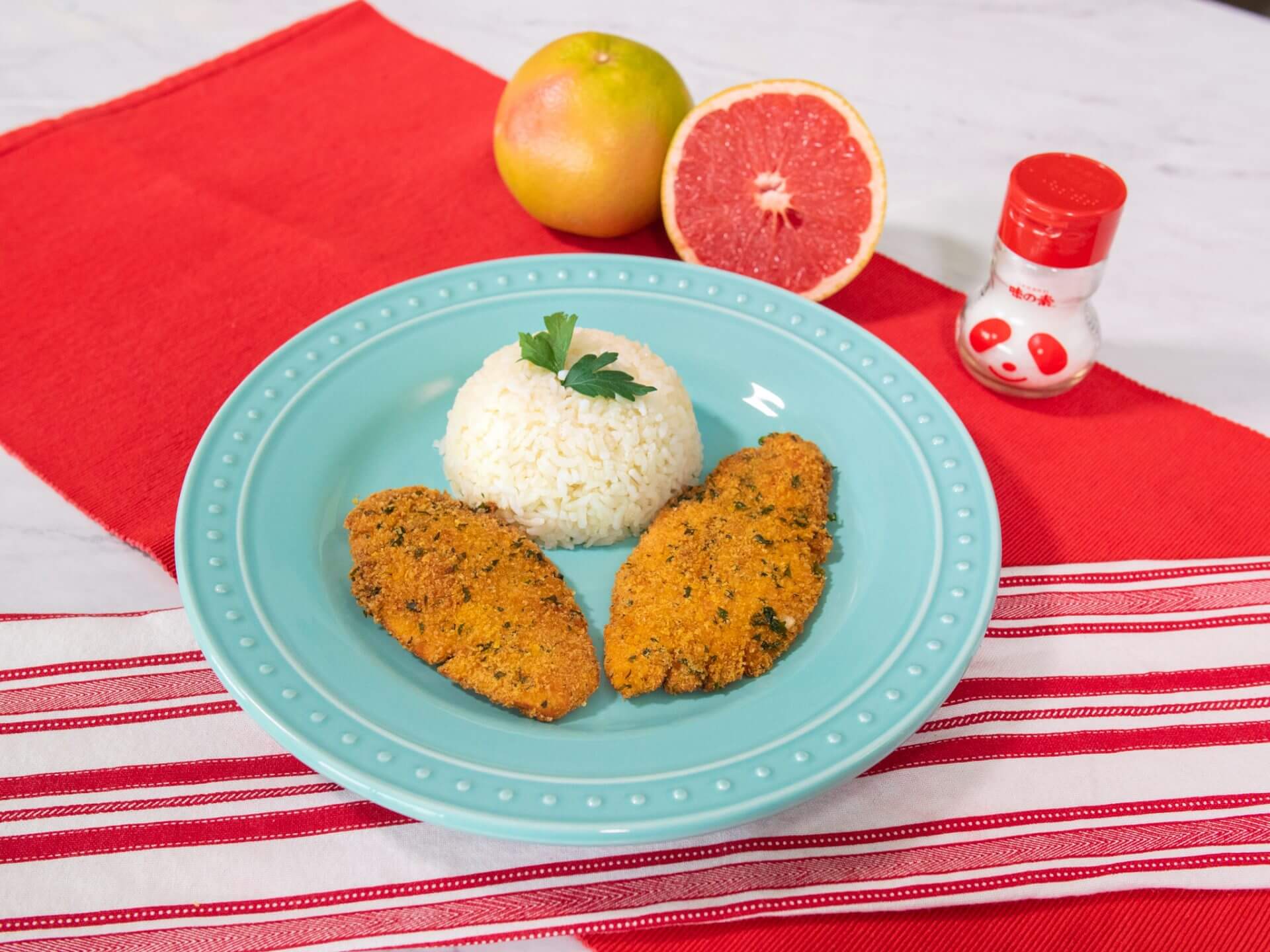 Looking like real fried chicken, but this is made of grapefruit peels! The white and spongy part of grapefruit creates perfect texture and makes you believe that you are actually eating chicken fillet. Also check out a recipe author, Maria Sierra's website here.
Ingredients
Piths of 2 large grapefruits (peeled)
1 ½ cups of apple cider vinegar (to soak grapefruit piths)
½ tsp of Ac'cent or umami seasoning AJI-NO-MOTO®, divided
3-4 garlic cloves, minced
Freshly-grated pepper, to taste
2 eggs, beaten (may use egg substitute to make the dish vegan)
1-1.5 cups of breadcrumbs, corn flakes crumbs or panko crumbs, for breading
1 small bunch of fresh parsley, finely chopped
Directions
Peel the grapefruit's skin, just until uncovering the white part ("pith"). Slice your grapefruit in half and take the flesh/juicy part out with the help of a spoon. Once hollow, you can slice each half again, to remain with four pith parts.

Cut 3 slits near the pointy edges of each pith to help the pith hold a flat shape.

Soak the pith in apple cider vinegar for at least 30 minutes and up to an hour. This will help balance the bitterness. After time passes, rinse the piths under water, making sure to squeeze out all of the vinegar. You may then soak the piths in veggie broth for a couple of hours if desired, this is optional.

Proceed to season: rub garlic on to the piths and add pepper to taste. Also add sprinkles of MSG.

Prep breading mixture: mix freshly chopped parsley, remaining MSG, and breading choice (ground corn flakes, bread crumbs or panko bread crumbs).

Proceed to coat each pith by introducing each of them first into the beaten eggs and then coating with the breading mixture. Transfer each coated pith on to a drying rack to allow the mixture to stick better.

Heat vegetable oil in a pan and cook each pith for about 2-3 minutes on each side.

Once cooked, transfer to paper towels to remove excess oil.

Serve piths with rice or preferred side dish!
---