Roasted Vegetables with Bright & Crunchy Topping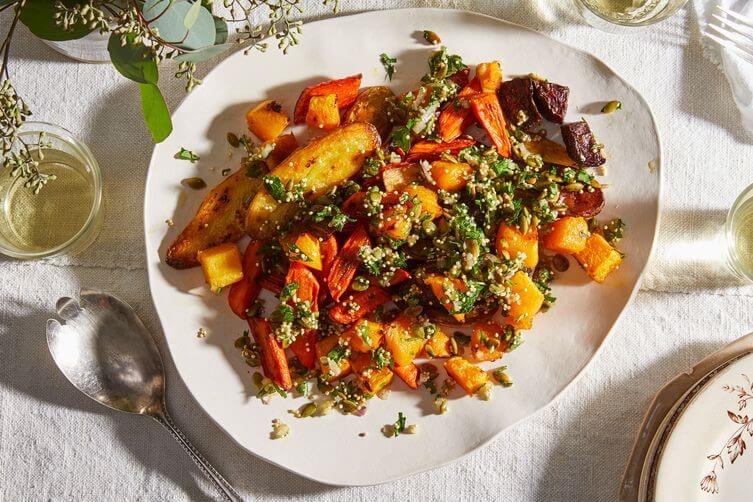 This seasonal vegetable dish was developed in partnership with Food52. The recipe uses a fresh, crunchy umami topping to make roasted vegetables lighter and brighter, with more pronounced flavor. By adding just a little MSG to the topping, the natural flavor of each ingredient is more distinct and works to create a perfectly balanced result. The key is using one part MSG to two parts salt, which reduces the overall sodium in the dish while adding synergy and savor.
Ingredients
Root vegetables for roasting (such as carrots, parsnips, potatoes, beets, squash), scrubbed
1/2 tsp salt
1/4 tsp pepper
2 tbsps extra-virgin olive oil, plus more as needed
2 tbsps finely chopped shallot (about 1/2 shallot)
2 tbsps lemon zest (from about 1 lemon)
1/4 tsp Ac'cent or umami seasoning AJI-NO-MOTO® (MSG)
1/4 cup pepitas
2 tbsps red quinoa (or millet or sesame seeds)
1/2 cup finely chopped parsley
Directions
Preheat the oven to 220℃/425° F and prepare the vegetables for roasting. Depending on the vegetable, cut them as you wish: For small carrots, perhaps leave them whole; for squash, cut down into bite-size pieces.

Toss the vegetables with the salt, pepper, and enough olive oil to coat. Spread out on a baking sheet and roast until fork-tender, about 20 to 60 minutes, depending on the vegetable. (If you're roasting red beets, roast them on their own section of the pan or on a separate pan as they will bleed into their neighbors.)

Meanwhile, stir together the shallot, lemon zest, and MSG, which will allow the shallot to lightly pickle. While the shallots are sitting, toast the pepitas in a dry pan, then add to the shallots. Toast the quinoa in the same dry pan until they start to pop, then stir into the shallots, as well. Add the parsley, followed by 1/2 teaspoon olive oil, and stir to combine. Season to taste with the MSG, olive oil, pepper, and lemon juice.

To serve, put the vegetables on a large platter then sprinkle with the crunchy topping. Serve warm or at room temperature.
---