Japanese-Style Rei-men (cold noodles) with Umami Dashi Source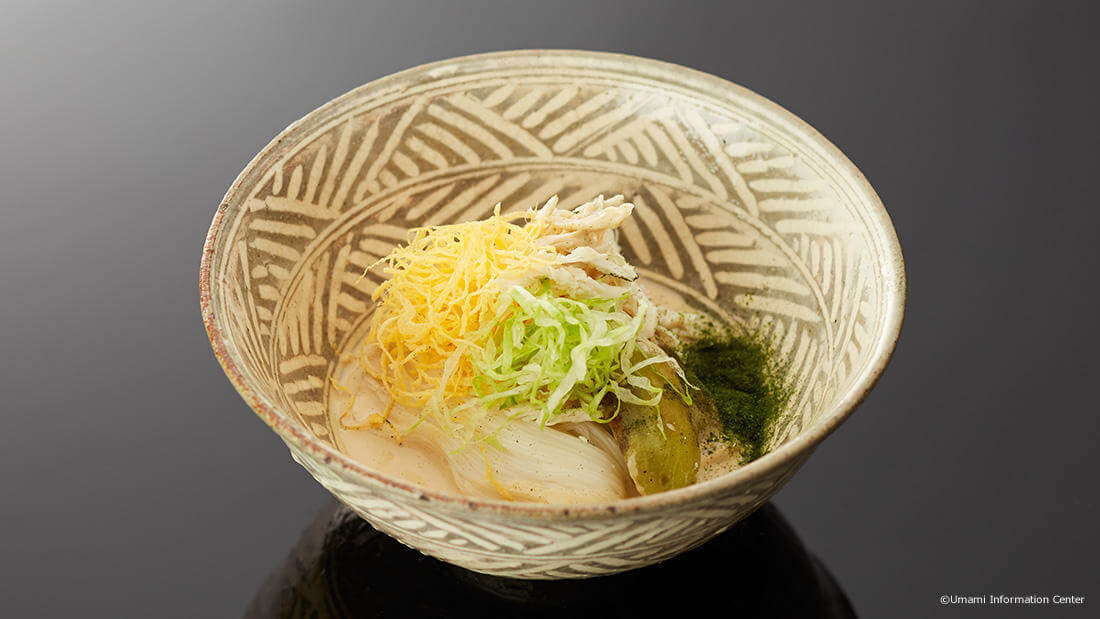 A dish of noodles in summer, somen noodles dressed in a sauce of umami-rich dashi with sesame flavor. Please enjoy the noodles and toppings: Attentively prepared grilled eggplant, the airy texture of finely cut egg crape, and the crispiness of lettuce.
Ingredients
Somen noodles for 4 people
Thin omelet cut into narrow strips
1 egg
1/5 tsp salt
Vegetable oil
Steamed chicken breast with sake
2 white breast chicken meat
1 tbsp sake
1 eggplant, grilled
1 cup dashi
1/2 tsp light soy sauce
1/2 lettuce
Sesame oil
Mixed seasoning
2 1/2 ounces (70g) sesame paste
1 cup ponzu (a bitter or sour orange-based sauce)
2 2/3 tbsps sugar
1 tsp tobanjan (Sriracha sauce)
Directions
Prepare omelet. Scramble eggs and salt them well. Put oil in a pan and make a thin omelet. Cut it into thin strips.

Prepare grilled eggplant. Grill eggplant with the skin on in a grill or on a toasting net at a low or medium heat for about 10 minutes.

Prepare mixed seasoning. Put tobanjan (Sriracha sauce) and sesame paste in a bowl. Mix them well and add dashi to dissolve them. Add sugar and ponzu. Keep it cool.

Prepare steamed chicken Trim sinew off a chicken sasami breast. Put it on a heat-resistant dish. Sprinkle on sake and steam it. Cool it down, and then tear it off in strips.

Cut the lettuce into thin pieces.

Boil somen noodles. Soak them in icy water to remove the sliminess. Add sesame oil and mix slightly to emulsify them.

Put somen noodles and other toppings in a bowl. Add mixed seasoning. Sprinkle aonori as you like.
---