Umami-Rich Quick Pork Ribs Stew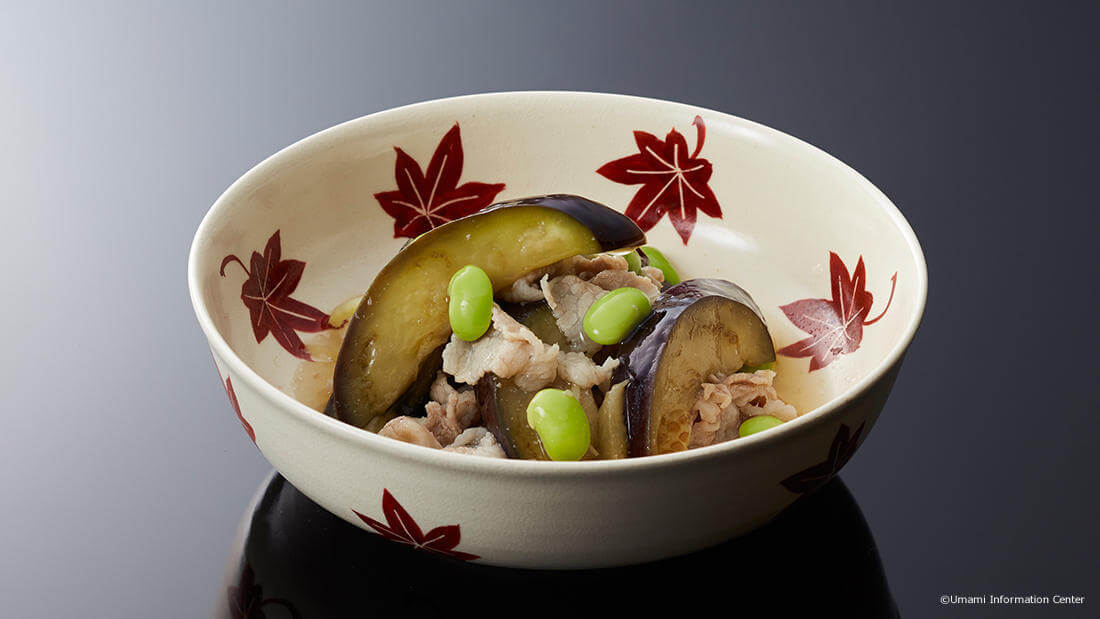 Stir-fried eggplant in season with sliced pork ribs then parboiled in umami-rich ichiban dashi. It is in perfect accord with the first rice of the year.
Ingredients
10 ounces (300g) thin sliced pork rib
1 eggplant
1 1/2 ginger
1 pound (400g) edamame
1 tbsp vegetable oil
For mixed seasoning
2 cups ichiban dashi
3 tbsps dark soy sauce
3 tbsps mirin
1 tbsp sake
1 tbsp sugar
For boiling edamame
Water for boiling
2 tbsps salt for boiling
1 tbsp salt for rubbing
Directions
Sprinkle salt on the edamame and rub in. Leave salt as it is. Add 2 tbsps salt in water and let it boil. Put in the edamame and boil for 3〜5 minutes. Strain it with a strainer and leave to cool.

Mix the seasonings well in a bowl.

Wash the eggplant and remove calyces. Cut the eggplant lengthwise then slice into half inch (1cm) thick strips.

Wash the ginger and shave its skin. Slice it as thinly as possible and cut it into fine strips.

Separate thin-sliced pork ribs and cut them into 1 inch (2cm) widths.

Put vegetable oil into a pan or a deep skillet. Heat it up to medium heat and put in the ginger and eggplant.

Mix them well with vegetable oil and add seasoning, then add the pork.

Loosen a lump of meat before the seasoning's temperature becomes too high.

When the ingredients come to a boil and froth gathers on the surface, skim it off. Continue to boil for about five minutes and let it cool down.

Serve on a plate and garnish with shelled edamame.
---