Umami-rich Butter Poached Abalone Risotto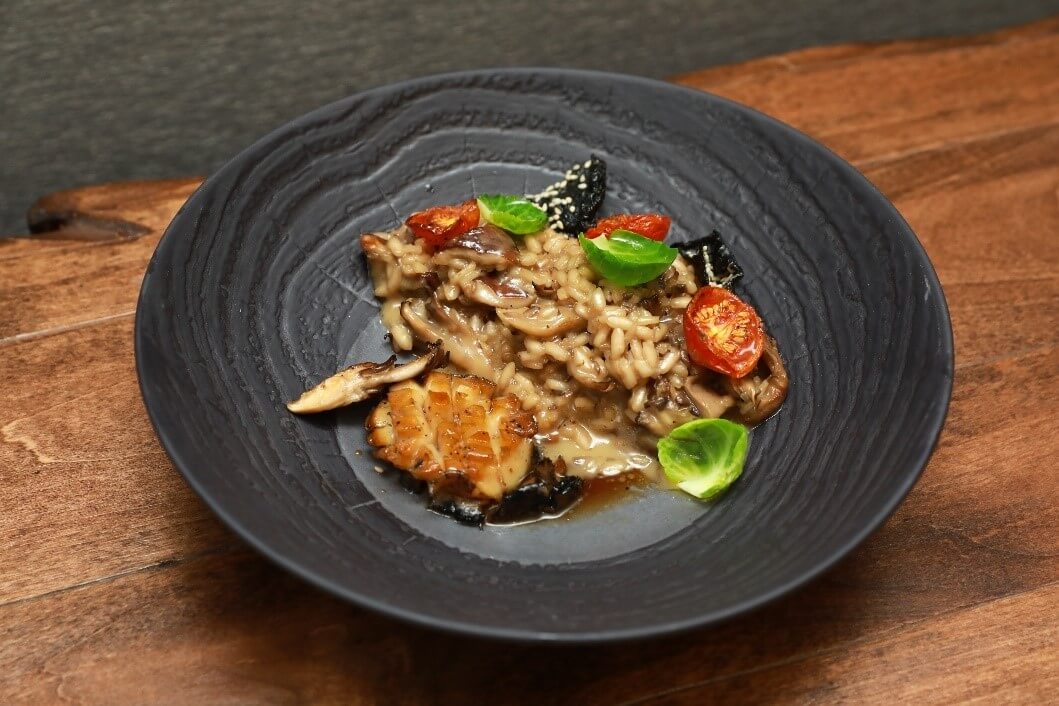 Traditional Japanese abalone combined with glutamate-rich ingredients mushrooms and dried tomatoes creates a decadent dish of elegance and umami tastes.
Ingredients
For the Abalone
5-6 fresh abalone
10 ounces (280g) butter
Salt and pepper to taste
For the Risotto
5 tbsps (60g) extra virgin olive oil
3 ounces (100g) shallots, very finely chopped
2 1/2 ounces (80g) cremini mushroom, finely chopped
1 pound (500g) Arborio rice
2 tbsps (30g) soy sauce
4 1/2 ounces (125g) dry white wine
7 cups (1 ½ kg) kombu stock, or as needed*
2 ounces (60g) butter, plus an additional 60 g for finishing the risotto
3 ounces (100g) freshly grated Parmigiano Reggiano
Salt and pepper to taste
For the Roasted Mushroom
7 ounces (200g) oyster mushroom
7 ounces (200g) shitake mushroom
7 ounces (200g) maitake mushroom
1 bunch of rosemary
2 head of garlic
Kombu Stock
7 ounces (200g) dashi kombu
2 whole onions
3 ounces (100g) dried shiitake mushroom
7 ounces (200g) daikon radish
7 ounces (200g) leek, cleaned
6 cloves garlic
15 cups (3kg) water
Oven Dried Tomatoes
10 ounces (300g) cherry tomato
5 ounces (140g) extra virgin olive oil
Parsley, chopped fine
Basil, chopped fine
Thyme sprigs
Salt and pepper to taste
Seaweed Crisp
A little seaweed sheet
2 1/2 ounces (80g) rice flour
3 tbsps (50g) water
Sesame seeds
1 tbsp sugar
4 tbsps (50g) soy sauce
10 ounces (300g) kombu stock
Sesame oil
Salt and pepper to taste
For Service
Purple radish microgreen
Brussels sprout leaves
Extra virgin olive oil
Directions
For the Abalone
Separate abalone from the shell with a spoon.

Make quadrillage mark on top of the abalone using a knife.

Season each side of abalone with salt and pepper and sear until brown on each side.

Butter poach abalone gently.

Remove transfer to a container, smoked slightly and cover until service.

On the same butter poached the Brussels sprout leaves right before serving.
For the Risotto
Bring the stock to a slow, steady simmer in a russe.

In a wide, shallow sautoir, sweat the finely chopped shallots and cremini mushroom in 60 g butter until soft and translucent.

Add the rice and stir with a wooden spoon until it is hot and evenly coated with fat.

Add the white wine and simmer until it has evaporated.

Add enough of the stock to just cover the rice, stirring constantly with the wooden spoon, keeping the sides and bottom of the pot clean as you stir. Keep the rice at a brisk simmer and stir continuously. Continue adding stock a ½ cup at a time, until the liquid is absorbed, and maintain the heat at a lively pace.

Taste the rice after 12-15 minutes. The rice is done when it is tender but still firm to the bite. As you approach the final minutes of cooking, gradually reduce the amount of stock that you add. The liquid should be a little soupy because the addition of the final ingredients will tighten up the risotto.

Off the heat, add the roasted mushrooms, soy sauce, the remaining 60 g of butter, and grated Parmigiano Reggiano. Season with salt and pepper. Stir the risotto energetically with the wooden spoon to whip the ingredients together. The consistency of the rice should be thick and creamy but still have movement, so add a few drops of stock if necessary to achieve the correct consistency.
For the Roasted Mushrooms
Clean and cut mushrooms to desired size, season with XV olive oil, salt and pepper.

Bake in 350°F/170℃ convection oven on top of a bed a rosemary, until cooked and golden brown.
For the Kombu Stock
Cut kombu into squares and steep in some of the water used for the stock.

Put kombu and the water steeped in into a large pot and add aromatic elements.

Bring everything to boil and take kombu out immediately once it starts to boil.

Strain the stock carefully and set aside for use.
For the Cherry Tomato Confit
Preheat convection oven to 300°F/150℃.

Cut tomatoes in half, in a bowl season with S/P and olive oil.

Baked in oven on a bed of thyme for about 45 min or until tomato done.

Once the tomatoes are done add the herbs and set aside.
For the Seaweed Crisp
Mix rice flour and water together to make batter.

Cut seaweed into squares and apply batter on one side of seaweed. Sprinkle sesame seed on top of battered side of seaweed.

Fry seaweed in 325°F/160℃, take it out to a cooling rack with paper towel when it starts to brown.

Combine kombu stock, soy sauce, sugar until ¼ of original volume.

Add sesame oil to reduced stock and drizzle over battered side of seaweed.
For Service
Spoon risotto into warm bowls.

Slice Abalone ¼ inch thick on a bias.

Garnish with seaweed crisps cherry tomato, Brussels sprout leaves, and micro purple radish.
Umami comes from...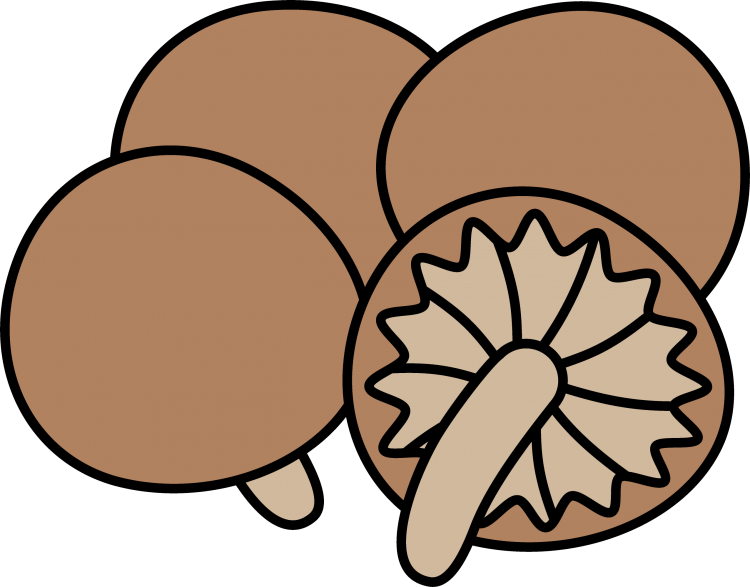 Shiitake mushrooms
Glutamate: 70mg/100g
Wondering how to amp up your own cooking with umami goodness?
---