Chilled Cucumber Soup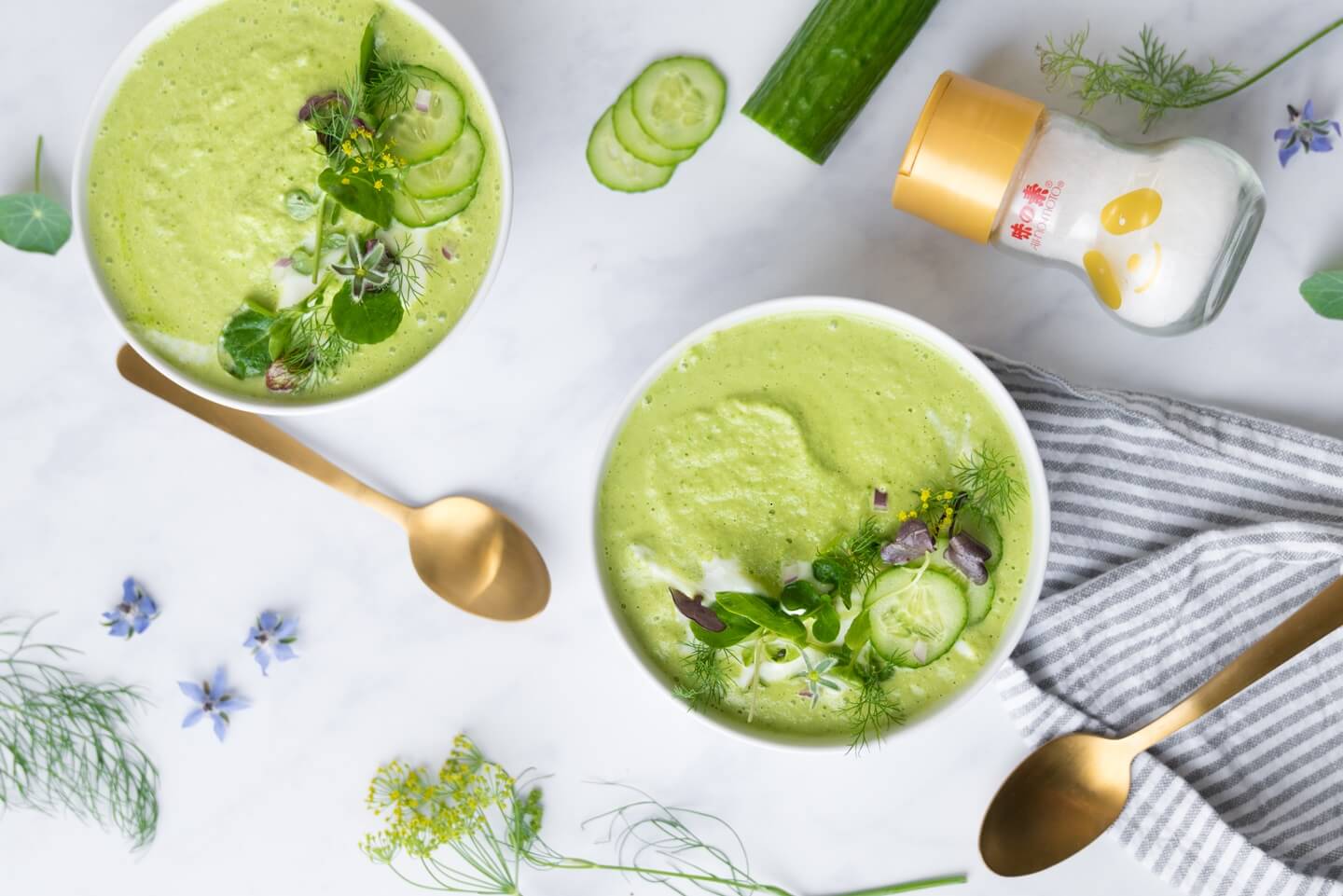 "A cool, herbal, summer soup with cucumber, topped with a celery seed dressing, micro-greens, and flowers. The perfect starter for a summer meal, or a side for brunch." – Carlene Thomas, Dietitian Nutritionist and cookbook author
Recipe attribution to Carlene Thomas, author of "OhCarlene"
Ingredients
For Cucumber Soup
2 pounds Persian or small English cucumber, halved seeded and chopped
1/2 cup plain low-fat yogurt
3 tbsps lemon juice
1/2 cup extra virgin olive oil
1 tbsp fresh dill, chopped
1/4 tsp cayenne
1/4 tsp kosher salt
1/8 tsp Ac'cent or umami seasoning AJI-NO-MOTO® (MSG)
1/8 tsp freshly ground black pepper
For Celery Seed Dressing
1/4 cup sugar
1 tsp lemon juice
1/2 tsp toasted whole mustard seed
1/4 tsp ground cumin
a few grinds black pepper
1/2 small shallot
1/4 cup apple cider vinegar, divided
1/2 cup extra virgin olive oil, divided
1/2 tsp celery seed
1/8 tsp Ac'cent or umami seasoning AJI-NO-MOTO® (MSG)
Directions
To make soup
Add to blender, blend for one minute, thirty seconds until smooth and light green.

Refrigerate for at least thirty minutes.

Serve with dressed greens and an extra drizzle of salad dressing.
To make dressing
Reserve half the apple cider vinegar and half the extra virgin olive oil and set aside.

Add remaining ingredients to standing blender or immersion blender. Blend and with blender running, slowly pour in remaining oil and vinegar.
---