What is ASV?
ASV stands for "Ajinomoto Group Creating Shared Value," which is based on the expression "creating shared value," or CSV for short. In addition to pursing sales and profits, a company that practices CSV creates social value by addressing social issues and problems through its business activities, and, as a result, creates economic value as well.
We believe efforts to create social and economic value in this way are what ASV is all about, and that evolving ASV will lead to the realization of the Ajinomoto Group's vision.
We've practiced ASV from the very beginning
The term "ASV" and its corresponding policy were first articulated in the Ajinomoto Group's 2014-2016 Mid-Term Management Plan issued in 2014. Yet it can be said we've been practicing ASV ever since our founding in 1909, over 110 years ago.
In 1899, Dr. Kikunae Ikeda—who would later discover umami, the fifth taste—traveled to Germany to study. Impressed by the healthy physiques of the German people, he resolved to dedicate himself to raising nutritional standards back home in Japan. Another man who shared this dream was Saburosuke Suzuki II, and in 1909 he launched a company to sell AJI-NO-MOTO®, the world's first umami seasoning. This marked the beginning of the history of the Ajinomoto Group's efforts to solve social issues through its business activities, the very essence of ASV.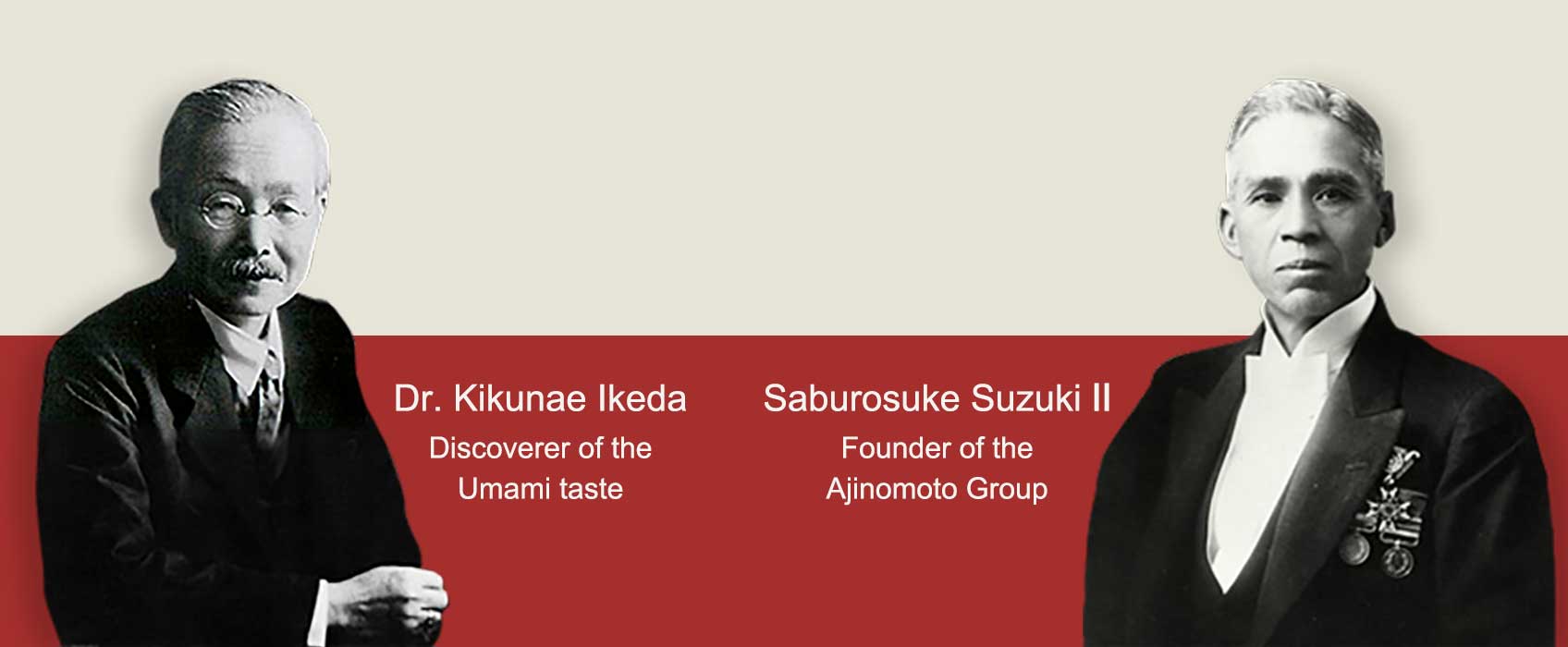 The origins of the Ajinomoto Group lie in these two men's founding aspiration of "Eat Well, Live Well." that still informs ASV today.
Enhancing Corporate Value through the ASV Management Cycle
ASV is a strategic initiative for achieving sustainable growth.
By reinvesting the economic value created by solving social issues through our business operations into further activities, we create a virtuous cycle that contributes to solving yet more social issues. By perpetuating this cycle, we enhance our corporate value.
In 2020 we created the ASV Management Cycle and established a four-step process aimed at enhancing employee engagement with ASV by encouraging employees to make ASV as one's own initiative, an indispensable element of value creation.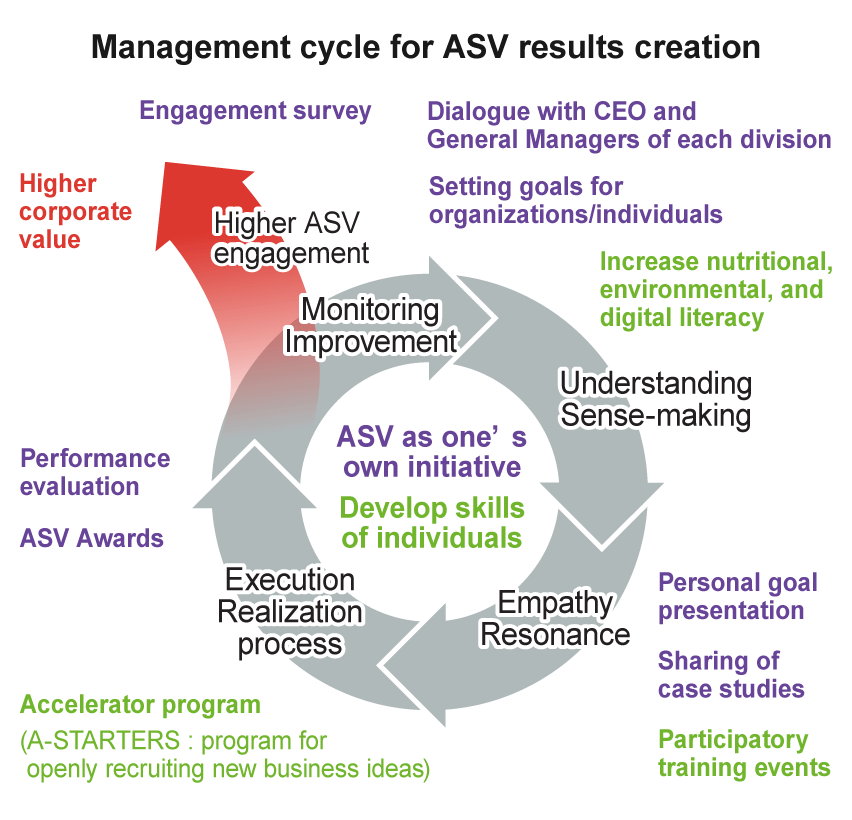 The process of enhancing employee engagement with ASV begins with employees setting goals they wish to achieve through their work. Developed through dialogue between employees and the CEO and general managers of each division, these personal goals are linked to organizational goals. Employees then present their ASV to an audience of peers. This process fosters a corporate culture that encourages employees to challenge themselves while gaining the support of their colleagues.
The ASV Awards was created to recognize outstanding examples of employee-driven initiatives that embody ASV. The aim is to encourage individual employees to make ASV as one's own initiative by recognizing and sharing best practices for the realization of ASV. The awards is expanding, with affiliates in countries like Brazil and Thailand launching their own ASV awards.
In this way, the understanding and acceptance of ASV among Ajinomoto Group employees has grown. By considering how they can practice ASV in their own work to create social and economic value, employees are continually challenging themselves to solve larger social issues.
Examples of ASV
The Ajinomoto Group engages in a variety of ASV initiatives to address social issues and problems through its business operations.
About the Ajinomoto Group