Message from the President and CEO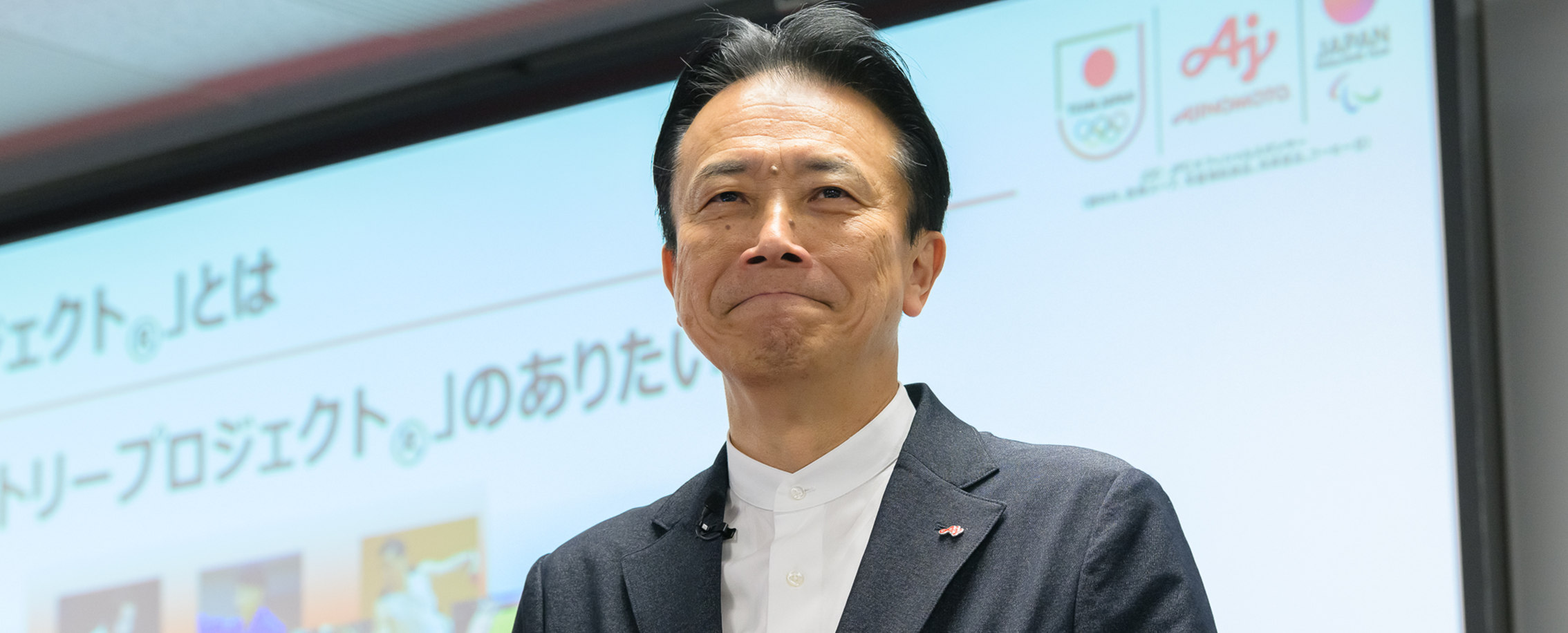 Dear Stakeholders
I think of the pursuit of sustainability as a journey that will continue forever. While environment, social, and governance (ESG) is a means that will bring us to the destination of the Sustainable Development Goals (SDGs), 2030 is merely a transit point. When new destinations are set as we seek to make the world a better place, ESG and the SDGs may become so commonplace that they may even disappear from our vocabulary.
In 1899, when Dr. Kikunae Ikeda of Tokyo Imperial University studied abroad in Germany, he was surprised at the physique and nutritional status of German people at the time, which developed into a strong desire to improve the nutrition of Japanese people. Saburosuke Suzuki II, who shared this desire, launched our business in 1909 with the release of the world's first umami seasoning called AJI-NO-MOTO®. The roots of the Ajinomoto Group can be found in our founding aspiration of "Eat Well, Live Well." ASV (The Ajinomoto Group Creating Shared Value) management is a form of management that aspires to create both social and economic value. I was appointed the President and CEO in 2015 when SDGs was adopted. As the leader of a multinational corporation, and as a company deeply involved in food, I am committed to contributing to the achievement of the SDGs.
We announced in 2020 that we will transform the Ajinomoto Group into a "solution-providing group of companies for food and health issues" by 2030 to fulfill our open commitment to advancing ASV management. We are seeking two outcomes by 2030—to help extend the healthy life expectancy of one billion people and to reduce our environmental impact by 50%.
Management is applying a policy of "Nutrition Without Compromise" in taste, food access (availability), and local way of life, and the core element for creating value in these areas is the power of amino acids. Protein makes up approximately 20% of the human body, and as much as 50% when excluding the water in our body. Proteins are chains of amino acids, and we have been researching amino acids for over 100 years. Amino acids serve four important functions, including flavoring to make foods tastes good, nutritional to help the body grow and develop, and physiological to help the body function properly. We are applying our leading-edge bioscience and fine chemical technologies to support delicious and nutritionally balanced meals by using functions of amino acids to create delicious foods that are low-salt and promote protein intake. Excess salt intake and insufficient essential nutrients such as protein are worldwide nutritional issues. As the world leader in umami-based seasonings, we believe the Ajinomoto Group can use our strengths in amino acid-related technologies to address both of these issues for the benefit of society and to generate organic growth for the Group.
I believe our food system is heading toward a crisis point in 2050, particularly for nutrition and sustainable food supply. The damage could become immutable if the global food industry does not take action now to limit the rise in global temperatures to below 2℃ by 2030. We must also continue making every effort to help address environmental and social issues or our own sustainable growth will be in jeopardy. One major issue for us is the reduction of greenhouse gas emissions, and we recognize that this entails understanding and cutting emissions throughout the entire supply chain.
We are already monitoring emissions from our company and from our direct raw material suppliers, but it will take several years for us to grasp and improve the actual status of Scope 3 emissions at the suppliers' sources and on the consumer level. For key raw materials we are working with the Consumer Goods Forum (CGF)*, national governments, NGOs, and others to address issues as well as forming procurement guidelines and creating a traceability system.
* An industry network of about 400 consumer goods manufacturers and retailers around the world
In April 2021, we created the new Sustainability Advisory Council that serves under the Board of Directors to enhance our sustainability promotion framework. It is a panel of Japanese and non-Japanese experts who advise the Board of Directors on issues and perspectives from the points of view of health and nutrition, emerging countries, the millennial generation, ESG and impact investment, and the media and for a long-term horizon to 2050. The Sustainability Committee, also created in April 2021 and serving under the Executive Committee, formulates execution plans and strengthens our management ability to pursue the combined objective of realizing a sustainable society and sustainable Ajinomoto Group.
I believe that our ASV management obliges us to not only maintain our good relations with stakeholders in our value chain but to go further and embrace their issues as our own. We commit to our customers and general consumers to provide value to them through foods that contribute to long and healthy lives, to our employees to provide stable employment and a workplace that is rewarding and where they can continue developing their skills, to our business partners to offer fair opportunity, and to our shareholders and investors to pursue sustainable returns and to work to quickly fulfill the objectives of our Medium-Term Management Plan.
By actively engaging with our stakeholders, we will seek solutions to food and health issues and help create a bright future for people around the world, which embodies our aspiration of "Eat Well, Live Well." We look forward to the continued guidance and support of all stakeholders.
Takaaki Nishii
Director, Representative Executive Officer,
President & Chief Executive Officer